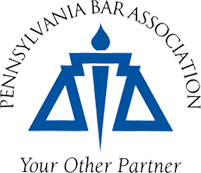 Philadelphia LawWorks
A Project of Philadelphia VIP
42 South 15th Street, Fourth Floor
Phone: 215-523-9550 ~~ Fax: 215-564-0845
On Sept. 22, 2005, Philadelphia LawWorks, along with Corporate Pro Bono.Org and the Delaware Valley chapter of Association of Corporate Counsel America (DELVACCA) held the second annual Corporate Pro Bono Day. Corporate counsel attended a continuing legal education seminar and then participated in a legal clinic where they counseled Philadelphia-area small businesses on their legal needs. Building upon the success of LawWorks' and CorporateProBono.Org's 2004 Nonprofit Clinic, the clinic portion served 13 small business owners. Seventeen volunteer attorneys participated in the CLE and clinic, representing eight corporate law departments, such as Exelon Business Services, Comcast, Arkema Inc. and Penn Virginia Corporation. William Donahue, associate general counsel of Exelon Corporation and DELVACCA Pro Bono Coordinator played a key role in recruiting corporate counsel.
The continuing legal education seminar, led by Richard Cohen, Michelle Eichen and Allison Gifford of Duane Morris LLP, provided the in-house volunteers with training on relevant small business issues including corporate formation and intellectual property. During the legal clinic, attorneys and clients were paired together by matching the clients' needs with the attorneys' specialties.
Both the attorney volunteers and the small business clients found the event rewarding. Attorneys that attended were pleased that their legal skills could be used to help low-income clients. The clients left the event with a feeling of satisfaction and gratitude for the opportunity to meet with an attorney. A small business development center that referred several small businesses to the clinic reported that "clients were extremely satisfied with the level of information they received." One client who had been trying to start a business was almost ready to give up due to legal problems. After meeting with a volunteer during the Corporate Pro Bono Day clinic, the client was convinced that her legal issues were not insurmountable and decided to continue to pursue her dream. LawWorks has since referred several of the small businesses to volunteer attorneys for further legal services.
Philadelphia LawWorks, a project of Philadelphia VIP, provides pro bono referral services to small businesses, nonprofit and community organizations and low-income homeowners. For more information and an application, contact LawWorks at (215) 523-9550 or www.philadelphialawworks.org.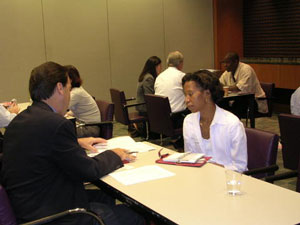 Richard Mannella, senior counsel at Arkema, Inc., helps small business owner Zana Billue at the second annual Corporate Pro Bono Day in Philadelphia.