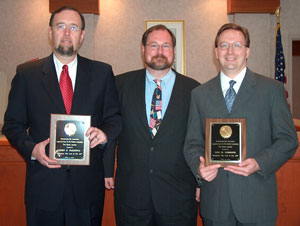 PBA Pro Bono Coordinator David Trevaskis (center) presents Past Chester County Bar President John McKenna (left) and West Chester lawyer Leo Gibbons (right) with Pro Bono Awards from the PBA's Legal Services to the Public Committee for their work with the CCBA's Access to Justice Project. The awards were presented at the June 8, 2005, CCBA Pro Bono Committee Meeting.
The CCBA Access to Justice effort has found pro bono attorneys for clients who are very poor, but who make too much money to qualify for civil legal aid. The project has also increased the number of pro bono attorneys taking referrals from the local office of Legal Aid for Southeastern Pennsylvania (LASP) and seeks to provide pro bono lawyers for Community Impact Legal Services.
Trevaskis attended the CCBA Pro Bono Committee meeting to discuss how the PBA's IOLTA grant to support PALawHelp.org and PAprobono.net could be used to support the local Access to Justice program. He also offered support for grant writing efforts on behalf of that work. The CCBA Pro Bono Committee has already begun fund raising by holding the Trial Run on June 25, 2005, a first-time road race with all proceeds going to support LASP.