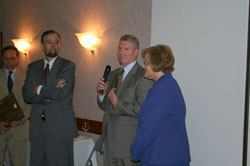 PBA President Andy Susko, with microphone, presents Judge Katherine Platt with a Legal Services to the Public Committee Judges Award Aug. 30, 2007. For more on the presentation, click here.
2007 PBA Pro Bono Award winners are lauded at the Children's Summit in Harrisburg on Thursday, May 24, 2007. PBA President Ken Horoho (far right), President-Elect Andy Susko (third from right) and Vice President Dale McClain (fourth from right) lead the 200 participants of the summit in celebrating the good work of the honored lawyers and judges.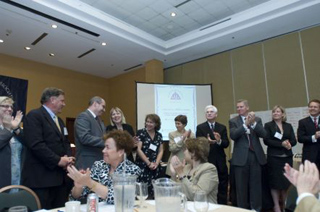 2007 Pro Bono Award winners honored at the 2007 PBA Annual Meeting in Philadelphia, June 21, are shown with Liz Fritsch, immediate past chair of the PBA Legal Services to the Public Committee (in white jacket); Sam Milkes, executive director of the Pennsylvania Legal Aid Network (wearing glasses); PBA President Andy Susko (blue shirt); PBA Immediate Past-President Ken Horoho (white shirt); and PBA Pro Bono Director David Trevaskis (stars & stripes tie.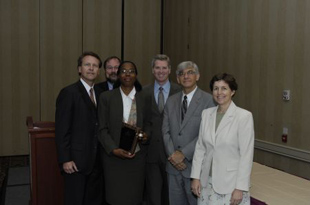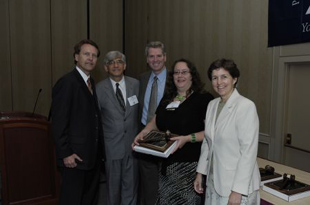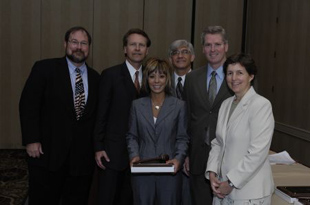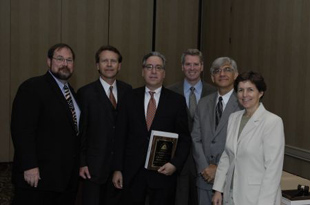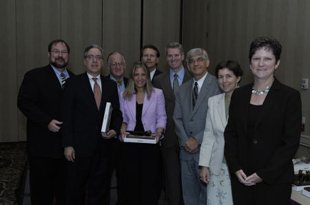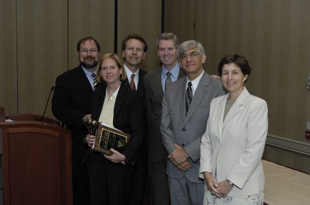 Past PBA Pro Bono Award Winners