At the April 13, 2005, meeting of the Mifflin County Bar Association, attorneys Stuart "Skip" Cilo, Patricia Gardner, Richard Mohler, Mark Remy, Daniel Searer, Stephen Snook and Christopher Torquato were recognized by MidPenn Legal Services for their pro bono participation in 2004.
MidPenn Legal Services works in conjunction with many local bar associations. Volunteer attorneys conduct legal advice clinics, represent clients and conduct community legal education seminars or provide financial support to legal services. There are over 1,000 volunteer attorneys in the MidPenn service area.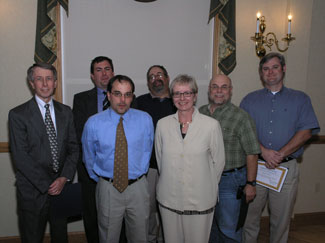 Pictured from left to right: Richard Mohler, Mark Remy, Christopher Torquato, Stewart "Skip" Cilo, Patricia Gardener, Stephen Snook, Daniel Searer.