Lackawanna Pro Bono on Facebook, 2014
You can follow and "like" Lackawanna Pro Bono at www.facebook.com/Lackawannaprobono.
Lackawanna to Recognize Pro Bono Volunteers, Nov. 19, 2013
Lackawanna Pro Bono's 7th Annual Golf Tournament, June 3, 2013
Read the announcement; get the registration form.
Limited Appearance Forms, April 2013
Attached are the Limited Appearance Order, Limited Entry and Limited Appearance Withdrawal forms that volunteers in Lackawanna County have been using.
PBA Vice President O'Connor Presents Awards Honoring
Lackawanna County Pro Bono Effort, Nov. 29, 2012
PBA Vice President Francis X. O'Connor joined lawyers and judges from Lackawanna County for a celebration of pro bono service in Scranton on Nov. 29. O'Connor presented 2012 PBA Pro Bono Awards and applauded the pro bono effort in the county. Click here for more information and photos from the event.
Lackawanna Pro Bono Gala and Awards Event, Oct. 27
As part of the 2011 Pro Bono Week Celebration, Lackawanna Pro Bono Inc. (LPI) held its 3rd annual Fundraising Gala at the Scranton Cultural Center, Oct. 27. More than 150 attended the event, during which Morey Myers and his wife, Sondra, Carlene Gallo and Robert T. Gownley Jr. were honored for their pro bono service and PNC Bank was awarded the Robert W. Munley Distinguished Service Award. Joseph Price acted as master of ceremonies and introduced four brief videos, one about Lackawanna Pro Bono and one about each set of honorees. Robert Munley presented the awards. The gala raised approximately $45,000, a portion of which will go to LPI's endowment. Along with Philadelphia's VIP Program, LPI is one of only two stand-alone pro bono efforts in Pennsylvania. Below are photos from the event.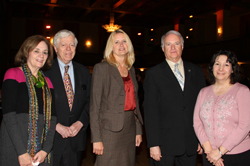 The honorees, from left, Sondra and Morey Myers; Debbie Kolsovsky, senior vice president/sales director, PNC Institutional Investments; Robert T. Gownley Jr. and Carlene R. Gallo.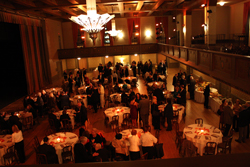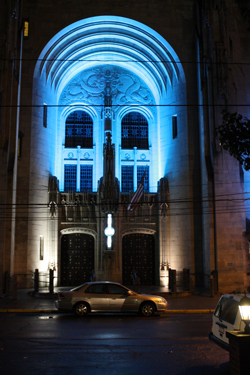 Lackawanna Pro Bono Inc.'s Fifth Annual Golf Tournament, Blue Ridge Trail Golf Club, Mountaintop, June 6, 2011 (Click here for the registration brochure.)
Lackawanna Bar Association Endorses ABA Model Access Act and Basic Principles, Feb. 17, 2011
The Lackawanna Bar Association at its regular meeting on Feb. 17, 2011, voted to approve and join in the action of the Pennsylvania Bar Association in supporting the ABA Model Access Act and Basic Principles in order to further its efforts to provide counsel to litigants in civil matters where basic human rights are at stake.
"Pro Bono Lawyers Serve Community": Letter to the Editor by Sylvia Hahn, Executive Director, Lackawanna Pro Bono; Scranton Times Tribune, Jan. 6, 2011
Lackawanna Pro Bono Recognition Reception, Photos, Nov. 4, 2010
2010 National Pro Bono Week
Charles F. Wilson Receives Samuel Fallk Equal Access to Justice Award, 2010
Lackawanna Pro Bono, Inc., 'Honor Roll' Salutes Lawyers Taking Pro Bono Cases in 2009, January 2010
Lackawanna County Pro Bono Options, Jan. 7, 2010
Lackawanna Pro Bono Fundraising Gala, Oct. 16, 2009
Endowment Fact Sheet
Gala Fact Sheet
Lackawanna Pro Bono Fact Sheet
Sponsorship/Program Book Advertising Form
2009 Equal Access to Justice Award Recipients
2008 Northeast Pennsylvania Pro Bono Seminar, April 18
Seminar Announcement
Seminar Brochure
2006 Pro Bono Survey Results
(Survey taken at the 2006 Northeast PA Pro Bono Seminar, Oct. 19, 2006)
Seminar Survey Document October 2006
Lackawanna Pro Bono Inc. Fact Sheet, October 2006
2006 Northeast Pennsylvania Pro Bono Seminar Brochure, Oct. 19, 2006
2006 Northeast Pennsylvania Pro Bono Seminar Photos
Fifth Annual Northeast Pennsylvania Pro Bono Seminar Program Description, Oct. 19, 2006
Report on Miniature Golf for Pro Bono Event of Aug.12, 2006
Invitation: Miniature Golf for Pro Bono, Aug. 12, 2006
Scranton Attorneys Receive Awards For Service To Underprivileged
Lackawanna Pro Bono Helped 1,000th Client
PAI Survey
County Bar Contact Information