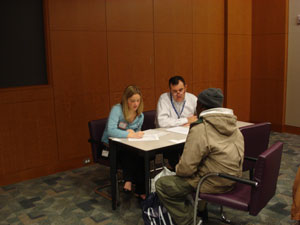 Bill Donohue and Julie Devine of Exelon with a client
Corporate Lawyers Help
Local Homeless Receive Birth Certificates
Outreach is Part of National Corporate Pro Bono Challenge
PHILADELPHIA (Nov. 13, 2007) - Thirty-three attorneys and staff from PECO, Exelon, ACE Group of Insurance Companies, Pep Boys, Aetna, Merck, Wachovia, Blue Cross, and Reliable Companies with the Homeless Advocacy Project (HAP), an organization dedicated to meeting the legal and advocacy needs of Philadelphia's homeless community, held a recent birth certificate clinic that helped over 130 adults and children apply for their birth certificates free of charge. "The program was a model example of how corporate attorneys can fulfill the mandate of Pennsylvania Bar Association President Andy Susko to perform pro bono service, as well as a reminder of the commitment to pro bono service of the PECO/Exelon team that was honored with the 2007 Goffman Award by the Pennsylvania Bar Foundation and a Pro Bono Award from the PBA's Pro Bono Office," noted PBA Pro Bono Coordinator David Trevaskis.
The clinic fulfilled an important need for those without birth certificates because living without proper documentation makes it almost impossible for a homeless person to receive medical assistance, apply for housing or take advantage of public programs.
Marsha Cohen, HAP executive director, said, "This clinic was HAP's most successful corporate pro bono event ever! HAP is incredibly grateful to ACE Group of Insurance Companies, Pep Boys, Aetna, Merck, Wachovia, Blue Cross, Reliable Companies and organizing hosts PECO and Exelon for donating their time and talents to process and pay for birth certificate applications for 26 children and 108 adults."
"I just participated in the Pro Bono Institute's national convocation where law firms and corporations met to determine more effective means to provide free legal services to those in need," said Kevin Stepanuk, Exelon / PECO assistant general counsel and the organizer of the clinic. "That our corporate law departments successfully served this need, with support on out-of-state applications from Dechert, LLP, is a reflection of the good we can accomplish by working together."
While law firms generally have emphasized community service, chief legal officers in corporations across the country developed the Corporate Pro Bono Challenge with the slogan "Good Intentions, Great Results" to enable in-house lawyers to identify and demonstrate their commitment to pro bono service to co-workers and colleagues in the legal profession. Ethical rules governing the conduct of attorneys have traditionally identified pro bono service to those unable to obtain access to justice as a key element of the professional identity and unique role of lawyers. For more information on the program, please contact the PBA Pro Bono Office or:
Kevin D. Stepanuk
Associate General Counsel / "East" Pro Bono Coordinator
Exelon Business Services Company
2301 Market Street, S23-1
Philadelphia, PA 19103
Direct: 215-841-5848
Fax: 215-841-4474
E-mail: kevin.stepanuk@exeloncorp.com