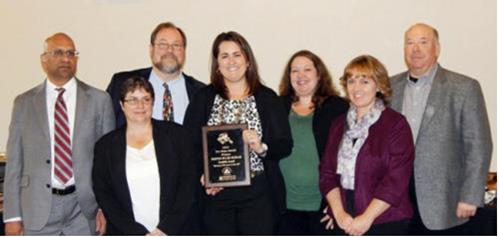 Franklin County Bar Association Celebrates Attorneys Providing Civil Legal Services to Individuals, Families, Oct. 29, 2014
The Franklin County Bar Association Pro Bono Luncheon was held in Chambersburg. Clinton Barkdoll, FCBA president, welcomed area attorneys and thanked the attorneys and staff members who work for legal service agencies in Franklin County, along with the various members of the FCBA who provide pro bono services. "You are the unsung heroes of our legal system and we sincerely thank you for your service and excellent work," said Barkdoll. "Franklin County provides a level of legal services that is admired throughout Pennsylvania. This is something all of us should take great pride in." Mahesh Rao, chair of the Franklin County Bar Association's Pro Bono Committee, shared that pro bono services had been provided for Child Custody, Divorce, Child Support, Landlord Tenant, Wills and Estates, Bankruptcy, Protection from Abuse, Child Dependency, and Business Planning. This year's luncheon honored Kristin Diller Nicklas, of Nicklas Law Offices. Nicklas received the 2014 Pennsylvania Bar Association Pro Bono Award from David Trevaskis, the Pro Bono Coordinator for the Pennsylvania Bar Association. In his remarks, Trevaskis noted that Nicklas has accepted pro bono cases from all three programs this year and does additional pro bono work outside of the programs. She has accepted a very trying custody case this past year and helped the WIN program during a transition phase. Her willingness to help has resulted in clients obtaining representation when they otherwise would have had to represent themselves. Trevaskis also commended the splendid coordination between the three agencies in Franklin County that offer pro bono services. Franklin County Legal Services, MidPenn Legal Services and the Law Offices of Women in Need work together to provide much needed legal assistance. The yearly luncheon is held in conjunction with the Pennsylvania Bar Association Pro Bono Week. This week is an opportunity to highlight the difference lawyers make in their communities and to acknowledge the partnerships that form the basis for many successful pro bono efforts. Pictured above, left to right, are Mahesh Rao, pro bono committee chair; (front) Carrie Bowmaster, managing attorney of MidPenn Legal Services; David Trevaskis, PBA pro bono coordinator; Kristin Diller Nicklas of Nicklas Law Office; Meghann Karasic, managing attorney of the law offices of Women in Need; Gloria Keener, executive director of Franklin County Legal Services; and Forest N. Myers, PBA immediate past president.
MidPenn Legal Services Franklin/Fulton County Office Fact Sheet, FY 2010-11
MidPenn Legal Services Program-Wide Fact Sheet, FY 2010-11
MidPenn Legal Services Franklin/Fulton County Office Fact Sheet, FY 2009-10
MidPenn Legal Services Program-Wide Fact Sheet, FY 2009-10
2010 National Pro Bono Week
In Franklin County on Oct. 27, 2010, a luncheon was held to honor pro bono volunteers. PBA Pro Bono Coordinator David Trevaskis joined local judges and Franklin County Bar President John Keller, Pro Bono Coordinator Anne M. Shepard and Executive Director Carolyn Seibert-Drager in honoring all volunteers. Kevin M. Taccino was honored with a PBA Pro Bono Award for regularly handling pro bono cases for MidPenn Legal Services, Franklin County Legal Services and the Law Offices of WIN Victim Services.
Franklin County Pro Bono Options, 2010
MidPenn Legal Services Franklin/Fulton County Office Fact Sheet, FY 2008-09
MidPenn Legal Services Program-Wide Fact Sheet, FY 2008-09
County Pro Bono Information Sheet, 2007
County Legal Services Celebrates Fifth Anniversary, March 2007
Pro Se Divorce Clinic Started in Franklin County, Fall 2006
Franklin County Bar Association's Web site
County Bar Contact Information
Support for Creation of Local Legal Services Program 2001-02