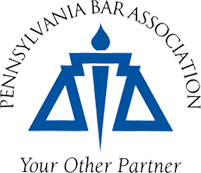 'Serving Those Who Served' Seminar, April 29, 2016
Sponsored by Penn State Fayette, the Fayette County Bar Association and the Westmoreland Bar Association, a seminar titled "Serving Those Who Served: Veteran Benefits, Programs and Legal Issues" is being held at Penn State Fayette on April 29. Get more information about the event.
Toys for Tots
The Fayette County Bar Association annually rings in the season by sharing holiday cheer with their colleagues and spreading holiday cheer with the U.S. Marine Corps Reserve's Toys for Tots Program. Members of the bench and bar meet at Caleigh's Restaurant to enjoy their annual holiday party, and everyone who attends brings a gift that is donated to the program. Dan Martin, local coordinator for the program, collects the gifts and distributes them to Fayette County children just in time for the holiday. This event has become a holiday tradition for the Fayette County Bar Association. In 2012, the annual event was held on Dec. 6.
Holiday Celebration and Toys for Tots Program Support, 2010

Fayette County Pro Bono Options
The Fayette County Bar Association currently does not have an established pro bono program. (Dec. 10, 2012)