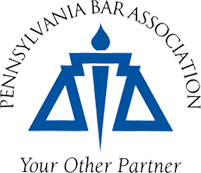 Bankruptcy Cure CLE Program in Clinton County, Nov. 12, 2014
NorthPenn Legal Services is offering The Bankruptcy Cure CLE program on Nov. 12, 2014, at the Clinton County Courthouse. Read more.
Presentation of 2014 PBA Pro Bono Award to David Lindsay, June 2, 2014
Clinton County attorney David Lindsay was presented with a 2013 Pro Bono Award on June 2, 2014, at a meeting of the Clinton County Bar Association following a CLE presentation on access to justice by PBA Pro Bono Coordinator David Trevaskis. Shown below, left to right, are Clinton County Judge Michael Salisbury, award-winner Lindsay, Trevaskis, Michael Angelelli, county bar vice president, President Judge Craig Miller and Danna Rich-Colins of North Penn Legal Aid.


Presentation of 2011 PBA Pro Bono Award to Jacqueline Kramer, Feb. 6, 2012
Clinton County lawyer Jacqueline Kramer is shown receiving her 2011 PBA Pro Bono Award on Feb. 6. Pictured from left are David K. Trevaskis, PBA pro bono coordinator; Clinton Bar President Randy Paul Brungard; Kramer; and county President Judge J. Michael Williamson. Kramer has been volunteering for pro bono referrals from North Penn Legal Services since she began her association with the law firm of Roberts, Miceli & Boileau LLP more than two and a half years ago.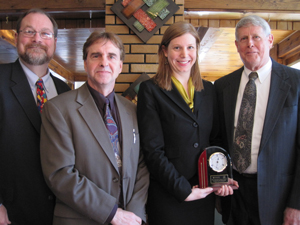 Clinton County Letter January 2010
Clinton County Pro Bono Options, 2010