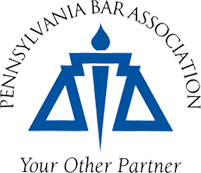 Pro Bono Activities and Providers
Pro Bono Coordinator's Report, Nov. 17, 2010
Online article: "Pennsylvania Courts Issue Rules Implementing 2006 PA Interpreter Certification Law," May 13, 2010
Innovative Pro Bono Strategy Offered in ABA Publication
"Dialogue," a publication of news and perspectives from the ABA Division for Legal Services, features in the Winter 2010 issue the article "CLE Credit for Pro Bono: An Innovative Pro Bono Strategy," by Jamie Hochman-Herz, assistant committee counsel, ABA Standing Committee on Pro Bono and Public Service. Click here for the article.
Updated "Report on the Justice Gap in America," September 2009
Press Release of Sept. 30, 2009, Linked to the Report
Letter from 108 U.S. House Members to House and Senate Chairs Urging Increase in Legal Services Corp. Funding
AJA Five-Year Report Shows Benefits of Funding, February 2009
IOLTA, PLAN and the PBA Pro Bono Office are pleased to announce the publication of the Access to Justice Act Five-Year Report. The study results show the benefit of Access to Justice Act funding in increasing civil legal aid across the commonwealth. Click on the following links to read this material: summary, full report, appendix.