MidPenn Legal Services 2015-16 Fact Sheet, Posted January 2017
The legal-aid provider in Adams County is MidPenn Legal Services. Read the overview of the MidPenn's services to counties in 2015-16. Read the report on MidPenn's services in Adams County in 2015-16.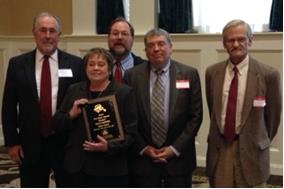 Tracy Sheffer Receives 2014 Pro Bono Award, Oct. 31, 2014
Adams County 2104 Pennsylvania Bar Association Pro Bono Award winner Tracy Sheffer is pictured above with (from left) Pennsylvania Supreme Court Justice J. Michael Eakin, PBA Pro Bono Coordinator David K. Trevaskis, Adams County Bar President Harold Eastman and MidPenn Legal Services local attorney John Perry. Sheffer was honored at the inaugural Adams County Bench/Bar Conference, Oct. 31, 2014, for consistently accepting "pro bono referrals. In each instance, she has gone to court with the client and helped them resolve their problems. Once she worked for five years on a case to help the client resolve all of her issues. "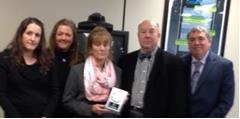 Presentation of 2013 PBA Pro Bono Award to Entwistle & Roberts Law Firm, March 25, 2014 Shown below at the presentation of a 2013 PBA Pro Bono Award at the Adams County Courthouse to the law firm of Entwistle & Roberts are, from left, Jamison Entwistle, Heather Entwistle Roberts, Barbara Jo Entwistle, PBA President Forest Myers and Adams County Bar Association President Howard Eastman Jr.
MidPenn Legal Services Adams County Office Fact Sheet, FY 2014-15
MidPenn Legal Services Program-Wide Fact Sheet, FY 2014-15
MidPenn Legal Services Adams County Office Fact Sheet, FY 2010-11
MidPenn Legal Services Program-Wide Fact Sheet, FY 2010-11
MidPenn Legal Services Adams County Office Fact Sheet, FY 2009-10
MidPenn Legal Services Program-Wide Fact Sheet, FY 2009-10
Adams County Pro Bono Options, Jan. 7, 2010
MidPenn Legal Services Adams County Office Fact Sheet, FY 2008-09
MidPenn Legal Services Program-Wide Fact Sheet, FY 2008-09
County Pro Bono Information Sheet, 2007