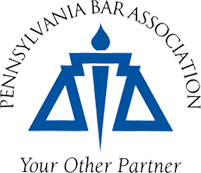 SeniorLAW Pro Bono Efforts
Attorneys work with the SeniorLAW Center (http://www.seniorlawcenter.org/) to protect the legal rights and interests of seniors in need. The SeniorLAW Center provides a combination of legal services, community education, outreach and advocacy, incorporating a comprehensive approach to representing and empowering its clients and focusing on and prioritizing the problems of seniors most in need. The SeniorLAW Center also acts as a vital link in the complex network of services available to senior citizens. Staff attorneys work in support of the SeniorLAW Helpline -- 1-877-PA SR LAW (1-877-727-7529).
The Helpline is a toll-free, state-wide, legal information, advice and referral service hotline for Pennsylvania senior citizens (age 60 years and older). Anyone interested in creating a SeniorLAW hotline pro bono project should contact PBA pro Bono Coordinator David Trevaskis at david.trevaskis@pabar.org. Click here for the SeniorLAW Center Confidentiality Policy. Click here for the SeniorLAW Center case type form.