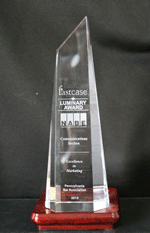 HARRISBURG (Oct. 30, 2013) - The Pennsylvania Bar Association (PBA) has received a Fastcase Luminary Award from the National Association of Bar Executives (NABE). During a gathering in Portland, Oregon of the NABE Communications Section, the PBA received the 2013 Luminary Award for Excellence in the category of large bar association excellence in marketing for its "animal magnetism" direct mail campaign.
The campaign, created to increase association membership, included a series of print pieces and e-mails using faces of animals to highlight a variety of PBA benefits. The PBA's campaign was cited by the competition judges as "bold, clear, creative and proven effective."
"Earning an award of this caliber is a tremendous point of pride for our marketing team, which includes communications, marketing and membership development professionals with many years of service to our association," said PBA Executive Director Barry M. Simpson. "We are fortunate to have a highly-skilled staff working on behalf of lawyers across the state."
The PBA was among 14 bar associations and their communications professionals to receive a Luminary Award this year. In addition to marketing, The Luminary Awards recognize excellence in public relations, regular publications, special publications, electronic publications, and websites. Winners include representatives from small, medium, and large bar associations from across the country.
This is the second Luminary Award claimed by the PBA within recent years. In 2011, the PBA's flagship magazine, The Pennsylvania Lawyer, received the Luminary Award in the regular publications category.
Staff members on the PBA Marketing Team include Simpson; Francis J. O'Rourke, deputy executive director; Elizabeth A, Kramer, member services director; Marcy C. Mallory, communications director; Jeffrey A. Gingerich, communications manager; Karlina A. O'Donnell, membership and marketing manager; Patricia M. Graybill, senior publications editor; and Tina R. Schreiber, publications editor. Schreiber was responsible for artwork selection and graphic design and Gingerich wrote copy for the winning campaign.
Founded in 1895, the Pennsylvania Bar Association exists to promote justice, professional excellence and respect of the law; improve public understanding of the legal system; facilitate access to legal services; and serve the 28,000 lawyers who are members of the association.