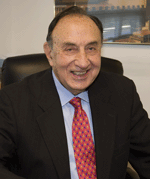 HARRISBURG (Oct. 2, 2013) - The Pennsylvania Bar Association (PBA) Business Law Section will present its second annual W. Edward Sell Business Lawyer Award to Louis F. Del Duca, professor emeritus, Penn State Dickinson School of Law, Carlisle, for his "extraordinary contribution to the practice of business law"in Pennsylvania.
Del Duca will accept the award on Nov. 13 during the kick-off ceremony of the two-day Business Law Institute to be held at The CLE Conference Center in the Wanamaker Building, Philadelphia.
Affectionately named "the Duke"by his colleagues, Del Duca joined the Dickinson School of Law faculty in 1956 and is the longest-serving faculty member in the school's history.
Del Duca is an internationally-recognized scholar in the fields of commercial and comparative law, as well as a leader in the internationalization of American legal education. He currently serves as president of the International Academy of Commercial and Consumer Law and has served as the United States' collaborator to the Rome International Institute for the Unification of Private Law.
A leader in the movement among U.S. law schools to increase international education opportunities, Del Duca founded and managed Penn State Law's summer programs in Europe.
Del Duca is editor in chief of the Uniform Commercial Code Law Journal, which offers in-depth coverage of UCC revisions, changes in case law and how the code affects business practices.
For 45 years, he has served as editor of the Pennsylvania Bar Association Quarterly, a scholarly publication with lawyer-written articles addressing a wide range of contemporary legal issues.
In addition to his involvement in the PBA Business Law Section, Del Duca's service to the organized bar has included involvement in the PBA International and Comparative Law Section, PBA Judicial Administration Committee, PBA Plain English Committee, PBA Professionalism Committee and PBA Statutory Law Committee, among others.
Del Duca holds degrees from Temple University, Harvard Law School and the University of Rome Law School.
More information about the Business Law Institute is available at the Pennsylvania Bar Institute's website at www.pbi.org.
The PBA Business Law Section consists of approximately 1,300 licensed Pennsylvania lawyers supporting the advancement of business practice through practical legal education, legislative drafting, and communication and networking within the bar.
Founded in 1895, the Pennsylvania Bar Association strives to promote justice, professional excellence and respect for the law; improve public understanding of the legal system; facilitate access to legal services; and serve the 28,000 lawyers who are members of the association.