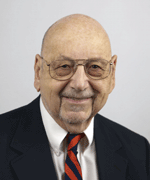 HARRISBURG (Aug. 29, 2013) - Harry L. McNeal Jr. has received the 2013 Distinguished Municipal Law Service Award from the Pennsylvania Bar Association (PBA) Municipal Law Section and the Pennsylvania Bar Institute (PBI). The award recognizes McNeal for his "commitment to the highest standard of excellence in municipal law."
Based in York, McNeal's practice has areas of concentration in municipal law, as well as wills and estate settlement. As a municipal lawyer, McNeal has served as solicitor and special solicitor for townships, boroughs, zoning hearing boards and municipal authorities. He has also represented private landowners.
His participation in numerous PBI seminars has included roles as course planner, author of course materials, lecturer and moderator. Many dealt with various aspects of zoning law and regulatory taking opinions of the U. S. Supreme Court and Pennsylvania appellate courts. He authored the chapter on zoning hearing boards of the Solicitor's Handbook, which the Governor's Office distributed to municipal solicitors throughout the state, as well as analyses of Supreme Court regulatory taking opinions for the Pennsylvania Law Weekly and the Pennsylvania Law Journal.
McNeal's PBA activities have included service as chair of the Municipal Law Section and chair of a Bar Related Title Insurance Study Committee.
Members of the PBA Municipal Law Section focus on the development and practical working of the law, both substantive and procedural, related to municipal subdivisions.
The PBI is the continuing legal education arm of the PBA.
Founded in 1895, the PBA exists to promote justice, professional excellence and respect of the law; improve public understanding of the legal system; facilitate access to legal services; and serve the 28,000 lawyers who are members of the association.