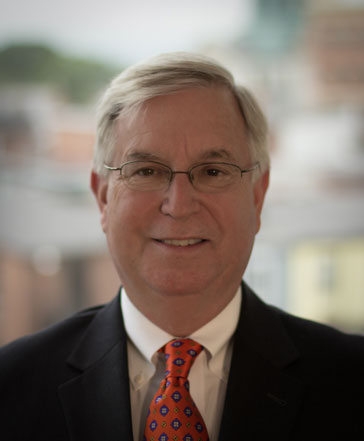 HARRISBURG (July 22, 2014) — The Pennsylvania Bar Association (PBA) Workers' Compensation Law Section will present its Irvin Stander Memorial Award to Harrisburg lawyer R. Burke McLemore Jr. on Sept. 11 during the section's 30th annual fall meeting at the Hershey Lodge, Hershey.
The award is named in honor of the late Judge Irvin Stander and is presented to an attorney whose dedication to the administration of workers compensation law and whose professionalism and regard for clients and colleagues serves as an example to others.
With more than 35 years of legal experience, McLemore is a partner and chair of the workers' compensation section at Thomas, Thomas & Hafer LLP in Harrisburg.
McLemore is the current chair of the Disciplinary Board of the Supreme Court of Pennsylvania, an independent agency that supports the court in matters involving lawyer licensing and discipline. The board, which is funded through annual assessments paid by lawyers licensed to practice in Pennsylvania, seeks to maintain a high standard of integrity in the legal profession by assuring lawyers comply with the Pennsylvania Rules of Professional Conduct.
Active in the organized bar, McLemore is chair of the PBA Worker's Compensation Law Section's Pennsylvania Workers' Compensation Centennial Committee, which is promoting awareness of the 100th anniversary of the Pennsylvania Workers' Compensation Act in 2015. McLemore serves on the Board of Directors for the Pennsylvania Bar Institute (PBI), the educational arm of the PBA, and is a frequent speaker at its presentations. McLemore served in the PBA House of Delegates and is a past president of the Dauphin County Bar Association.
McLemore is a past chair of the Pennsylvania Workers' Compensation Council.
McLemore is the author of Heart Attacks and the Pennsylvania Workman's Compensation Act.
Active in the community, McLemore served for 12 years on the Camp Hill Borough Council, which included a four-year term as president. He is an emeritus member of the Camp Hill Lion Foundation Board of Directors.
McLemore is a Phi Beta Kappa graduate of Washington & Jefferson College and earned his juris doctorate from the Dickinson School of Law of the Pennsylvania State University. McLemore is a past president of the Dickinson Law School Aumni Association and received both its Distinguished Service Award and its Outstanding Alumni Award.
More information about the PBA Workers' Compensation Section's meeting is available on the PBI website: http://www.pbi.org.
Founded in 1895, the Pennsylvania Bar Association strives to promote justice, professional excellence and respect for the law; improve public understanding of the legal system; facilitate access to legal services; and serve the 27,000 lawyers who are members of the association.