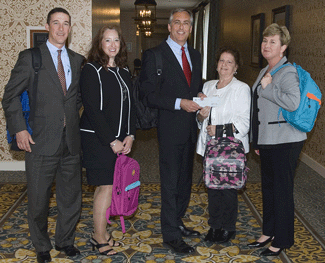 HARRISBURG (May 21, 2014) – The Pennsylvania Bar Association Family Law Section has made a $5,000 contribution to Operation Backpack, a project of Volunteers of America of Pennsylvania that provides school supplies to low-income children whose families have difficulty covering the costs of basic life essentials. Leaders from the section's governing council made a check presentation to representatives of Volunteers of America on May 16 during the PBA Annual Meeting in Hershey.
"Financially-struggling families benefit from Operation Backpack's good work of providing their children with much-needed school supplies," said Dan Clifford, chair, PBA Family Law Section. "The program also provides relief to teachers who often have to step into the breach and pay for supplies out of their own pockets to ensure all students have the essentials they need."
Operation Backpack provides fully loaded backpacks to referral contacts and agencies that get them into the hands of qualifying students before the start of the school year. Operation Backpack programs have been held in Allegheny County and the greater Pittsburgh area; Cumberland County; Dauphin County; Lancaster County; Lebanon County; the Lehigh Valley area; Luzerne County and the greater Wilkes-Barre/Scranton area; Perry County; and York County.
The PBA Family Law Section governing council voted earlier this year to make an annual contribution of $5,000 to a statewide charity that benefits Pennsylvania children.
Founded in 1895, the Pennsylvania Bar Association strives to promote justice, professional excellence and respect for the law; improve public understanding of the legal system; facilitate access to legal services; and serve the 27,000 lawyers who are members of the association.
Editor's note: A photo of the PBA Family Law Section's check presentation to Volunteers of America of Pennsylvania is posted at this web address: https://www.pabar.org/images/Operation-Backpack.jpg. In the photo from left to right are J. Paul Helvy, chair-elect, PBA Family Law Section; Mary E. Schellhammer, first vice chair, PBA Family Law Section; Dan Clifford, chair, PBA Family Law Section; Diana Faust, special events coordinator, Volunteers of America of Pennsylvania; and Meredith Sterner, executive communications director, Volunteers of America of Pennsylvania.