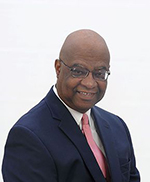 HARRISBURG (May 19, 2016) - The Pennsylvania Bar Association (PBA) Public Utility Law Section will present its Christianson Award to Johnnie E. Simms on May 24 during the PBA Public Utility Bench Bar Conference at the Harrisburg Hilton. Simms is the director and chief prosecutor for the Pennsylvania Public Utility Commission's Bureau of Investigation and Enforcement.
The award is named in honor of Robert A. Christianson, a former chief administrative law judge for the Public Utility Commission (PUC), and recognizes an individual who has made an outstanding contribution to the development, improvement and advancement of the profession of public utility law.
Simms, a PUC employee for 34 years, is retiring next month.
During August 2011, the Commission named Johnnie Simms as the director for the Bureau of Investigation and Enforcement (BI&E). BI&E serves as the prosecutory bureau for purposes of representing the public interest in ratemaking and service matters before the Office of Administrative Law Judge, and of enforcing compliance with the state and federal motor carrier safety and gas safety laws and regulations. The bureau handles rail safety enforcement proceedings that are referred by the Bureau of Technical Utility Services. The bureau also prepares reports for the PUC, provides technical support for other bureaus and participates in working groups on energy issues.
Simms had previously served as the director/chief prosecutor of the PUC's Office of Trial Staff.
From 1987 to 1994, Simms served as a member of the City of Harrisburg Zoning Board. From 1997 to 2003, he served on the board of directors for the Central Pennsylvania Red Cross.
Since 2002, he has served as a tutor for the Striving for Excellence Mentoring/Tutoring Program in the Susquehanna Township School District. Simms was one of the creators of the program and received the 2011-12 Volunteer of the Year Award from the school district for his commitment to the program.
Founded in 1895, the Pennsylvania Bar Association strives to promote justice, professional excellence and respect for the law; improve public understanding of the legal system; facilitate access to legal services; and serve the 27,000 lawyers who are members of the association.