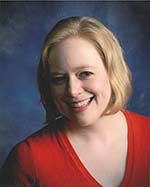 HARRISBURG (May 6, 2016) - Traci L. Naugle, a partner in the Altoona law firm of Forr, Stokan, Huff, Kormanski & Naugle, will begin a three-year term on the PBA Board of Governors at the conclusion of the PBA Annual Meeting May 13 in Hershey.
One of 12 zone governors who serve on the PBA board, Naugle will represent Blair, Bedford, Cambria, Fulton, Huntingdon, Indiana, Mifflin and Somerset county lawyers who are members of the association.
Naugle is the co-chair of the PBA Young Lawyers Division's Statewide High School Mock Trial Competition. She served as Zone 8 chair of the PBA YLD and as Nominating Committee chair. She served as the associate editor of the PBA YLD newsletter, At Issue. Naugle was awarded the PBA YLD Michael K. Smith Excellence in Service Award in 2008. She was a member of the PBA Bar Leadership Institute and served as a panelist for a variety of Continuing Legal Education (CLE) programs.
Naugle is the vice president of the Blair County Bar Association and served on its Board of Governors. She also was the coordinator of the BCBA Constitution Day program. She has served as the president, vice president and secretary of the BCBA Young Lawyers Division Committee.
Named to the Pennsylvania Business Central's "Foremost 40 Under 40" and the Altoona Mirror's "20 Under 40," Naugle also was an adjunct instructor at The Pennsylvania State University, Altoona College. She has served as the president of the Bethany Evangelical Lutheran Church Council of which she is a current member. She also is a member of the Blair County Chamber of Commerce.
She is a Phi Beta Kappa graduate of The Pennsylvania State University and a graduate of the Pennsylvania State University Dickinson School of Law from which she was certified as a public interest advocate by the Miller Center for Public Interest Advocacy.
Founded in 1895, the Pennsylvania Bar Association strives to promote justice, professional excellence and respect for the law; improve public understanding of the legal system; facilitate access to legal services; and serve the 27,000 lawyers who are members of the association.