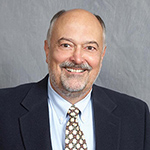 HARRISBURG (May 6, 2016) - Charles J. Vogt, of the Law Offices of Charles J. Vogt LLC in East Stroudsburg, will begin a three-year term on the PBA Board of Governors at the conclusion of the PBA Annual Meeting May 13 in Hershey.
One of 12 zone governors who serve on the PBA board, Vogt will represent Bradford, Lackawanna, Luzerne, Monroe, Pike, Sullivan, Susquehanna, Wayne and Wyoming county lawyers.
A member of the PBA House of Delegates, the association's policy-making body, Vogt is a member of the PBA Membership Development Committee, of which he has served as co-chair, and the PBA Planning Committee. He also served on the PBA Nominating, Professional Practice Standards and Specialization committees and the PBA Review and Certifying Board. He received a PBA President's Award for Service to the Bar in 2001.
Vogt is a past president of the Monroe County Bar Association and continues to serve on a variety of its committees.
He is a member of the board of directors of the Brodhead Creek Regional Authority and served as chair of the Monroe County Planning Commission. He also was a member of the 2020 County-wide Task Force Executive Committee and the Hamilton-Jackson-Pocono Regional Open Space Committee.
Vogt is a graduate of Dickinson College and the Dickinson School of Law.
Founded in 1895, the Pennsylvania Bar Association strives to promote justice, professional excellence and respect for the law; improve public understanding of the legal system; facilitate access to legal services; and serve the 27,000 lawyers who are members of the association.