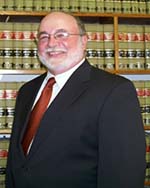 HARRISBURG (May 6, 2016) - Larry E. Coploff, a partner in the Lock Haven law firm of Coploff, Ryan & Welch, will begin a three-year term on the PBA Board of Governors at the conclusion of the PBA Annual Meeting May 13 in Hershey.
One of 12 zone governors who serve on the PBA board, Coploff will represent Cameron, Centre, Clearfield, Clinton, Elk and Potter county lawyers who are members of the association.
Coploff is a long-time member of the PBA House of Delegates, the association's policy-making body. He serves as treasurer of the Pennsylvania Bar Foundation. He is a member of the PBA Business Law, Elder Law, Municipal Law, Real Property, Probate & Trust Law, and Solo and Small Firm Practice sections. He is a member and former president of the Clinton County Bar Association.
Coploff was a board member of the Clinton County Chamber of Commerce and its successor, the Clinton County Economic Partnership, of which he served as chair. He served on the board of directors of the Infant Development Program for over twenty years. He is a member of the Rotary Club of which he is a past president and board member.
Coploff is a graduate of the University of Pennsylvania and the Duke University School of Law.
Founded in 1895, the Pennsylvania Bar Association strives to promote justice, professional excellence and respect for the law; improve public understanding of the legal system; facilitate access to legal services; and serve the 27,000 lawyers who are members of the association.