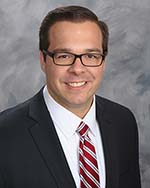 HARRISBURG (April 29, 2016) - Justin A. Bayer of Worcester Township, Montgomery County, a partner in the Norristown law firm of Kane, Pugh, Knoell, Troy and Kramer LLP, will become the immediate past chair of the Pennsylvania Bar Association Young Lawyers Division (YLD) at the conclusion of the PBA Annual Meeting May13 in Hershey.
Bayer has served on the PBA YLD Council since 2010. He is a member of the PBA House of Delegates, the association's governing body.
Bayer is a past member of the board of directors of the Montgomery Bar Association (MBA) and served as a member of the MBA Executive Board. He is chair of the MBA Medical-Legal Committee and past chair of the MBA Young Lawyers' Section.
Bayer has lectured for the Pennsylvania Bar Institute, the continuing legal education arm of the PBA, and for a variety of legal education programs for lawyers, law students and professionals. In 2007, 2008, and from 2010 to 2015, both Philadelphia Magazine and Law and Politics selected him as a "Rising Star" attorney.
Bayer is a graduate of Lehigh University and Villanova University School of Law.
Founded in 1895, the Pennsylvania Bar Association strives to promote justice, professional excellence and respect for the law; improve public understanding of the legal system; facilitate access to legal services; and serve the 27,000 lawyers who are members of the association.