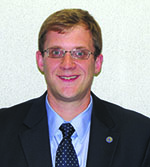 HARRISBURG (May 6, 2016) - Jonathan D. Koltash of Mechanicsburg, senior counsel at the Pennsylvania Department of Health, will become the chair-elect of the Pennsylvania Bar Association Young Lawyers Division (YLD) at the conclusion of the PBA Annual Meeting May 13 in Hershey.
Koltash is the co-chair of the PBA YLD statewide Mock Trial Competition Committee, the YLD delegate to the PBA House of Delegates, the association's policy-making body, and the editor of the YLD's newsletter, At Issue. He also serves as the YLD representative to the PBA Nominating Committee. He is the chair of the PBA Administrative Law Section and the PBA Government Lawyers Committee. He was a member of the PBA Bar Leadership Institute, class of 2012-13.
He is the president of the Widener University Commonwealth School of Law Alumni Association Board of Directors and a member of the law school's Board of Advisors. He is a volunteer income tax association site coordinator for Widener University and a Widener moot court team coach. He is the law school chapter chair and government relations chair for the Federal Bar Association, Middle District chapter. He is the programming co-chair for the James S. Bowman Inn of Court and a member of the Commonwealth Court Historical Society Board of Directors.
Koltash is a graduate of The Pennsylvania State University and a cum laude graduate of the Widener University School of Law, from which he received the Outstanding Recent Alumni Award in 2010. He also studied at the National University of Ireland in Galway. He received the Eagle Scout Award from the Boy Scouts of America.
Founded in 1895, the Pennsylvania Bar Association strives to promote justice, professional excellence and respect for the law; improve public understanding of the legal system; facilitate access to legal services; and serve the 27,000 lawyers who are members of the association.