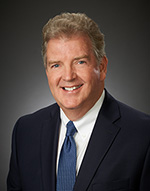 HARRISBURG (April 29, 2016) - Lackawanna County lawyer Michael J. McDonald, a founding partner in the Scranton law firm of McDonald and MacGregor P.C., will become secretary of the 27,000-member Pennsylvania Bar Association at the close of the PBA Annual Meeting May 13 in Hershey.
McDonald has served as PBA Zone Five Governor representing lawyers from Bradford, Lackawanna, Luzerne, Monroe, Pike, Sullivan, Susquehanna, Wayne and Wyoming counties. He is a member of the PBA House of Delegates and has served as a zone delegate and a county delegate to the PBA Young Lawyers Division. He is the co-chair of the PBA Membership Development Committee and received a PBA Special Achievement Award in 2015 for his leadership and service. He is the vice president and a Commonwealth Club member of the Pennsylvania Bar Foundation.
McDonald is a former president of the Lackawanna County Bar Association and its Young Lawyers Division. He received the association's President's Award for outstanding service to the legal profession. He also is a former president of the Federal Bar Association of the Middle District of Pennsylvania chapter and former president of the Northeastern Pennsylvania Trial Lawyers' Association.
McDonald has been chosen for certification and/or membership in the National Board of Trial Advocacy, the National Board of Civil Pretrial Practice Advocacy, the American Board of Trial Advocates and the Million Dollar Advocates Forum. He also has been selected as a "Pennsylvania Super Lawyer" for many years. Since 2011, he has been named to the Top 100 Trial Lawyer by the National Trial Lawyers.
McDonald has served as vice chairman and as a member of the board of directors for Fidelity Deposit and Discount Bank, a community bank located in Dunmore with offices throughout northeastern Pennsylvania.
He also has served on the board of trustees for Scranton Preparatory School, the board of directors for Meals on Wheels of Lackawanna County and the board of directors for Lackawanna Pro Bono, Inc, which provides legal services to low-income residents.
He is a graduate of Villanova University and the Dickinson School of Law of the Pennsylvania State University, which awarded him the International Academy of Trial Lawyers Award for distinguished achievement in trial advocacy.
Founded in 1895, the Pennsylvania Bar Association strives to promote justice, professional excellence and respect for the law; improve public understanding of the legal system; facilitate access to legal services; and serve the 27,000 lawyers who are members of the association.