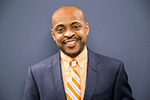 HARRISBURG (April 26, 2016) - The Pennsylvania Bar Association (PBA) Gay, Lesbian, Bisexual and Transgender (GLBT) Rights Committee will present its 2016 David M. Rosenblum GLBT Public Policy Award to Reginald T. Shuford, executive director, ACLU of Pennsylvania.
Shuford will receive the award during a May 12 reception of the PBA GLBT Rights Committee, PBA Civil and Equal Rights Committee, PBA Minority Bar Committee, PBA Solo and Small Firm Practice Section and the Pennsylvania Bar Foundation, which will take place as part of the association's Annual Meeting in Hershey.
Rosenblum, an active member of the PBA GLBT Rights Committee and a staunch proponent of civil rights, passed away suddenly in 2014. He was a driving force behind the report, "How Marriage Counts: 572 Ways Marriage Counts in Pennsylvania," a joint publication of the PBA GLBT Rights Committee, the Mazzoni Center and Dechert LLP. Rosenblum was the legal director at the Mazzoni Center. The award winner must have effected change that resulted in a positive impact for the GLBT community and must have used his or her position of leadership to inspire others to act and promote civil rights and equality.
Shuford joined the ACLU of Pennsylvania in September 2011. He previously served as the director of law and policy at the Equal Justice Society, a national strategy group heightening consciousness on race in the law and popular discourse.
From 1995-2010, Shuford served as senior staff counsel in the national ACLU's Racial Justice Program. He was the ACLU's chief litigator in challenges to racial profiling and helped pioneer legal challenges to racial profiling practices nationwide.
Shuford has been an advocate for LGBT equality for two decades and received the 2014 Humanitarian of the Year Award from the William Way LGBT Community Center. He is the recipient of many awards for his leadership and advocacy, including the 2016 Living Legal Legend Award from Penn State Law's Black Law Students Association and Multicultural Undergraduate Law Association.
Shuford is a graduate of the University of North Carolina's School of Law in Chapel Hill, where he was his graduating class president. In 2009, he received the Law School's Distinguished Alumnus Award. Shuford is a former Harvard Law School Wasserstein Public Interest Fellow.
Founded in 1895, the Pennsylvania Bar Association strives to promote justice, professional excellence and respect for the law; improve public understanding of the legal system; facilitate access to legal services; and serve the 27,000 lawyers who are members of the association.