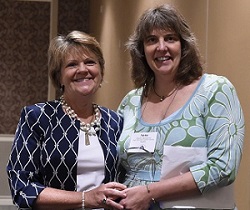 HARRISBURG (April 19, 2016) - The Pennsylvania Bar Association Plain English Committee will present its 2016 Clarity Award to Dauphin County Court of Common Pleas Judge Jeannine Turgeon during the association's Annual Meeting Awards Luncheon on May 12 in Hershey.
The award was created by the committee to recognize "those who have done the most to foster plain English in the legal field." The committee's mission is to reward and encourage efforts to improve access to the law by demystifying legal language and to enable lawyers to better counsel clients and increase respect for the legal profession by removing the barriers of legalese.
Since 2000, Turgeon has served as a member of the Pennsylvania Supreme Court's Suggested Standard Civil Jury Instructions Committee. She has served as the committee's vice chair since 2005. Following her appointment to the committee, Turgeon encouraged the Pennsylvania Supreme Court to permit jurors to take notes and receive written copies of jury instructions prior to deliberation. She also convinced the committee to assume the task of rewriting two volumes of jury instructions in "plain English." Turgeon has influenced "plain English" revisions to the following chapters: Preliminary Instructions, Evidence, Believability of Witnesses, Burden of Proof and Presumption, Negligence Actions, and Medical Professional Negligence. The committee recently adopted a jury instruction concerning jurors' prohibition from utilizing social media during trials, cited as being a model jury instruction.
Turgeon has served on the Dauphin County Court of Common Pleas since 1992. She is currently the supervising judge on the county's first Family Court. She is the first woman elected to the court since its creation in 1785.
Turgeon holds degrees from Chatham College and University of Pittsburgh School of Law.
Founded in 1895, the Pennsylvania Bar Association exists to promote justice, professional excellence and respect of the law; improve public understanding of the legal system; facilitate access to legal services; and serve the 27,000 lawyers who are members of the association.