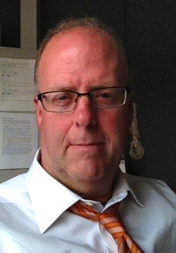 HARRISBURG (April 11, 2013) - The Pennsylvania Bar Association Young Lawyers Division will present its 2013 Liberty Bell Award to Alan L. Jennings of Allentown during the state association's Annual Meeting on May 8 in Pittsburgh.
The Liberty Bell Award is given to an individual for his or her outstanding community service and for promoting the "blessing of liberty" guaranteed by the Constitution.
Jennings is an outspoken advocate for low-income people. His efforts have resulted in a wide range of affordable housing and neighborhood revitalization projects.
He recently helped create RenewLV, a broad-based smart growth coalition designed to modernize local government, revitalize cities and preserve open space. He also helped to organize a mortgage foreclosure diversion program in Northampton County that requires banks' participation in mediation with homeowners before foreclosure actions can be taken. Pro bono lawyers are appointed to assist low-income homeowners in their negotiations with banks.
Jennings has lobbied local, state, and federal legislative and regulatory bodies for progressive public policies. He also has organized extensive studies on the economic and social status of low-income families.
Jennings has served in an advisory role to or on the boards of directors of the National Community Reinvestment Coalition, Pennsylvania Public Utility Commission, State Planning Board and Urban Availability Task Force of the Pennsylvania Insurance Department. In 1997, he served as one of five delegates appointed by Governor Tom Ridge to represent Pennsylvania at the Presidents' Summit on America's Future.
At the local level, Jennings currently serves on the boards of directors of the Allentown Neighborhood Improvement District Authority and Allentown Housing Authority.
Jennings has served as the executive director of the Community Action Committee of the Lehigh Valley (CACLV) since 1990. The CACLV is the driving force behind a range of programs designed to improve the quality of life for low-income people. These programs include the Second Harvest Food Bank of Lehigh Valley and Northeast Pennsylvania, the Sixth Street Shelter and its long-term transitional housing programs, the Energy Partnership and Safe Harbor Easton.
In 1993, Jennings led the creation of the Community Action Development Corporation of Allentown, a subsidiary of CACLV. In 1997, CACLV added a second subsidiary, the Community Action Development Corporation of Bethlehem. In 2001, Jennings established a third subsidiary, Rising Tide Community Loan Fund, a federally-certified community development financial institution that provides loans to small businesses that have difficulty getting credit from traditional sources. A fourth subsidiary was added in 2010, the Lehigh Valley Community Land Trust that focuses on development of affordable housing. Jennings serves as executive director of the four subsidiaries.
In addition, Jennings has developed community coalitions and partnerships on housing, welfare reform, health care, credit access and other community problems. He managed creation of a free health care initiative for uninsured households and an interfaith initiative to assist families in making the transition from welfare to work.
Jennings is a graduate of Dickinson College in Carlisle.
Founded in 1895, the Pennsylvania Bar Association strives to promote justice, professional excellence and respect for the law; improve public understanding of the legal system; facilitate access to legal services; and serve the 28,000 lawyers who are members of the association.