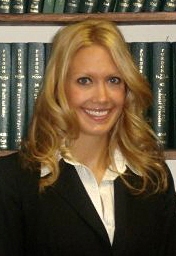 HARRISBURG (April 11, 2013) - The Pennsylvania Bar Association Young Lawyers Division will present its Michael K. Smith Excellence in Service Award to Kelly Bray Snyder of Wilkes-Barre. Bray Snyder will receive the award during the state association's Annual Meeting on May 8 in Pittsburgh.
The award is named in memory of a young Philadelphia lawyer committed to providing legal services for low-income people and to offering law-related educational programs to students. The award is presented to a Pennsylvania young lawyer who, through his or her exemplary personal and professional conduct, reminds lawyers of their professional and community responsibilities.
Bray Snyder is the current president of the Wilkes-Barre Law and Library Association Young Lawyers Division. On behalf of the division, she has instituted monthly community volunteer events such as renovating a room for disabled children served by the Special Spaces charity, cleaning up a neighborhood for Earth Day and spending time at a local nursing home.
Since 2009, Bray Snyder has served on the Wyoming Valley Habitat for Humanity Board of Directors.
In 2011, Bray Snyder was honored by the Wilkes-Barre Law and Library Association for overseeing a local Wills for Heroes event. Wills for Heroes programs are sponsored by county bar associations and the Pennsylvania Bar Association Young Lawyers Division to provide wills, powers of attorney and medical directives to first responders and their spouses/partners.
For the past two years, Bray Snyder has been a member of the Pennsylvania Bar Association House of Delegates, the state association's policymaking body. She also has served as a Pennsylvania Bar Association Young Lawyers Division zone co-chair since 2007.
Bray Snyder is a 2005 graduate of Pace University School of Law with a certificate in environmental law and a 2002 magna cum laude graduate of King's College. She is an associate at the Dyller Law Firm in Wilkes-Barre, focusing on civil rights and real estate law. She previously served as an adjunct professor at King's College.
Founded in 1895, the Pennsylvania Bar Association strives to promote justice, professional excellence and respect for the law; improve public understanding of the legal system; facilitate access to legal services; and serve the 28,000 lawyers who are members of the association.