Quigley Catholic High School Matched with Wyoming Seminary College Preparatory School (Luzerne County) in Final Round of Competition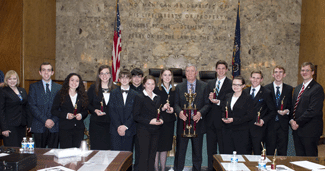 HARRISBURG (April 4, 2016) - Quigley Catholic High School won the 33rd Annual Pennsylvania Bar Association Statewide High School Mock Trial Competition, which took place at the Dauphin County Courthouse in Harrisburg on April 1 and 2. Quigley Catholic High School also won the 1990, 1994, 1995, 1996, 2000, 2002, 2013 and 2015 PBA Statewide High School Mock Trial competitions.
Quigley Catholic High School will represent Pennsylvania in the national mock trial finals to be held May 12 - 16 in Boise, Idaho.
The Quigley Catholic High School Mock Trial Team is composed of students Sarah Belsterling, Thomas Belsterling, Grant Burnet, Emily Chinchilla, Megan Gannon, Chad Hewitt, Alexander Kuntz, Austin Kuntz, Annamarie Lovre, Michael Metropoulos and Zoe Miller. The teacher coach is Timothy Waxenfelter. The attorney advisor is Jennifer Popovich.
Joining the Quigley High School team in the final round of competition was the Wyoming Seminary College Preparatory School Mock Trial Team. The Wyoming Seminary College Preparatory School team is composed of students Paige Allen, Avery Conyngham, Samarth Desai, Sara Edgar, Lina Tori Jan, Emily Laurore, Stefan Olsen and Cobie Wise. The teacher coaches are Adam Carlisle and David Johnson. The attorney advisors are Daniel Hollander, Judge Richard M. Hughes III, Guerline L. Laurore and Joseph C. Ruby.
Wyoming Seminary College Preparatory School won the 2011 Statewide High School Mock Trial Competition.
Beaver County Court of Common Pleas Judge James J. Ross presided over the final round of competition.
"These students are to be applauded for demonstrating the critical-thinking and effective communication skills that are needed to rise to the state level of competition," said Justin A. Bayer of Norristown, chair of the PBA Young Lawyers Division. "We also applaud the teachers and legal and community volunteers who shared their time and their expertise to make this journey possible for the students."
Twelve additional teams participated in the state championships, including the following:
Central Bucks High School South (Bucks County), Central High School (Blair County), Devon Preparatory School (Chester County), DuBois Area High School (Clearfield County), Eden Christian Academy (Allegheny County), Huntingdon Area High School (Huntingdon County), Lakeland High School (Lackawanna County), Lower Moreland High School (Montgomery County), McDowell High School (Erie County), Milton Hershey School (Dauphin County), Roman Catholic High School (Philadelphia County) and Upper St. Clair High School (Allegheny County).
This year, a total of 315 teams from 271 high schools competed in district and regional levels of Pennsylvania's mock trial competition - one of the largest in the nation.
Through the competition, eight-member student teams are given the opportunity to argue both sides of the case in an actual courtroom before a judge. The students, who play the roles of lawyers, witnesses, plaintiffs and defendants, are assisted by teacher coaches and attorney advisors in preparing for competition. Volunteer lawyers and community leaders serve as jurors in the trials. The juries determine the winners in each trial based on the teams' abilities to prepare their cases, present arguments and follow court rules.
This year's hypothetical case centered on a civil action to determine whether an insurance company will be forced to cover the costs of a heinous injury to an individual that occurred on a nature preserve.
The case was written by Jonathan A. Grode of Philadelphia, Paul W. Kaufman of Philadelphia, Jonathan D. Koltash of Harrisburg and Talia Charme-Zane, an alumna of the Pennsylvania mock trial program and former captain of the Central High School team in Philadelphia.
The co-chairs of the Mock Trial Executive Committee are Koltash and Traci L. Naugle of Altoona.
The Pennsylvania Cable Network will record the final round of the competition for airing statewide on April 6 at 8:30 p.m., April 8 at 9 p.m. and April 9 at 7 p.m. The Pennsylvania Bar Foundation, the charitable affiliate of the Pennsylvania Bar Association, is providing funding support for the broadcast.
For more information about the Pennsylvania Bar Association Statewide Mock Trial Championships, visit the PBA Web site at http://www.pabar.org.
Founded in 1895, the Pennsylvania Bar Association strives to promote justice, professional excellence and respect for the law; improve public understanding of the legal system; facilitate access to legal services; and serve the 27,000 lawyers who are members of the association.