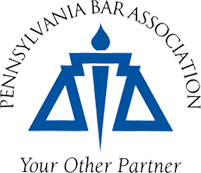 Statement of Pennsylvania Bar Association on the Resignation of Suspended Pennsylvania Supreme Court Justice Joan Orie Melvin
HARRISBURG (March 25, 2013) - The Pennsylvania Bar Association (PBA) today issued the following statement on the resignation of suspended Pennsylvania Supreme Court Justice Joan Orie Melvin:
"Restoring the public's confidence in the integrity of our highest state court is paramount," said PBA President Thomas G. Wilkinson Jr. "Justice Orie Melvin ultimately made the wise and correct decision to resign. Because it is important to lawyers and litigants that the Supreme Court return to its full complement of seven Justices when hearing cases as soon as possible, it is the Pennsylvania Bar Association's hope that Governor Corbett and the Pennsylvania Senate will act quickly on the appointment of a duly qualified interim justice.
As lawyers, we have a responsibility to do all we possibly can to help preserve the integrity of the justice system and maintain public confidence in our judiciary. The many distinguished, hardworking and honorable judges in Pennsylvania deserve nothing less. An independent and impartial judiciary is a cornerstone of our system of justice, and public confidence in the judiciary is undermined when judges engage in criminal or other serious misconduct such as the crimes for which Justice Orie Melvin was charged and convicted."
Founded in 1895, the Pennsylvania Bar Association exists to promote justice, professional excellence and respect of the law; improve public understanding of the legal system; facilitate access to legal services; and serve the 28,000 lawyers who are members of the association.