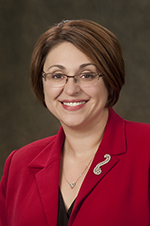 HARRISBURG (March 23, 2016) - The Pennsylvania Bar Association (PBA) Children's Rights Committee has named lawyer Kerith Strano Taylor of Brookville as its Child Advocate of the Year.
Taylor will receive the award at a luncheon ceremony during the committee's spring training program, "Current Issues for Child Advocates 2016," taking place April 15 at the Pennsylvania Bar Institute in Mechanicsburg.
The award recognizes the accomplishments of lawyers and judges who are advocates for children within the commonwealth or who are involved with child advocacy.
Since 2004, Taylor has been a guardian ad litem for the Jefferson County Dependency Court, representing hundreds of dependent children. She is the owner of The Taylor Law Firm, which focuses on the practice of family law.
Taylor has been a member of the Statewide Children's Roundtable Initiative since it was founded by Pennsylvania Supreme Court Justice Max Baer in 2006. As a member of the initiative's Legal Representation Workgroup, Taylor aided in the development of affordable, accessible and timely training for guardians ad litem across the state. She was a presenter for the Core Training for Legal Representatives that trained 350 guardians ad litem and parents' attorneys across the commonwealth in 2011. She served on the Children's Roundtable Summit Planning Committee in 2009 and 2010 and was the co-chair of the 2015 Children's Roundtable Summit.
The Pennsylvania Supreme Court appointed Taylor to its Juvenile Court Procedural Rules Committee in 2011. As the current chair of the committee, Taylor advises the court on matters relating to rules governing actions for delinquency and dependency courts, striving to promote statewide uniformity of practice, streamline procedures and encourage the prompt disposition of juvenile matters.
Taylor also sits on the Jefferson County Children's Roundtable and the regional Leadership Roundtable 7.
Taylor was elected to the Brookville Area School Board in 2011. From 2013 to 2015, she was board president and she continues to serve as a member of the board. She also is a board director of the Riverview Intermediate Unit 6.
In 2013, Taylor was appointed to the National School Board Association's Federal Relations Network, a national advocacy organization working to improve education policy.
Taylor earned her Bachelor of Arts degree in political science from Penn State University and her Juris Doctor degree from George Mason University School of Law.
In addition to the presentation of the award to Taylor, the full-day training program will include case law, rules and legislative updates of interest to lawyers whose cases include juvenile delinquency and dependency matters. To learn more about the session, go to PBI's website at www.pbi.org.
Founded in 1895, the Pennsylvania Bar Association strives to promote justice, professional excellence and respect for the law; improve public understanding of the legal system; facilitate access to legal services; and serve the 27,000 lawyers who are members of the association.