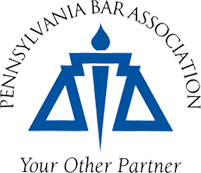 PBA President Pugh Issues Statement on Justice Eakin Resignation
HARRISBURG (March 15, 2016) - PBA President William H. Pugh V today issued the following statement about the resignation of Justice J. Michael Eakin from the Supreme Court of Pennsylvania:
"The Pennsylvania Bar Association applauds all parties involved for their resolution of this troubling situation. Restoring the public's confidence in the integrity of our judicial system should be everyone's top priority at this time.
It is our hope that the Governor and the Pennsylvania Senate will act expeditiously on the appointment of a qualified interim justice so that the Supreme Court of Pennsylvania can function as efficiently as possible."
Founded in 1895, the Pennsylvania Bar Association strives to promote justice, professional excellence and respect for the law; improve public understanding of the legal system; facilitate access to legal services; and serve the 27,000 lawyers who are members of the association.