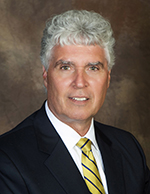 HARRISBURG (March 2, 2016) - The Conference of County Bar Leaders (CCBL) of the Pennsylvania Bar Association (PBA) has honored Francis J. O'Rourke, deputy executive director of the PBA, with its 19th annual Arthur J. Birdsall Award. The award was presented to O'Rourke during the 50th Annual Seminar of the CCBL, Feb. 25-27, in State College.
The award is presented to a bar executive who demonstrates professional excellence, who is committed to the success of his or her bar association and who significantly enhances the stature of his or her bar association. The award is named in honor of Arthur J. Birdsall, the PBA's county bar services director who retired after nearly 40 years of support to local bar associations.
O'Rourke was selected for the award for his leadership and service to the PBA and the Pennsylvania Association of Bar Executives (PABE), of which he serves as vice president.
During his 25 years on the PBA staff, O'Rourke has overseen the Committee and Sections, Communications, County Bar Services, Management Information Systems, Legislative, Member Services and Meetings departments.
According to his nomination, "He strives to make the association run smoothly by embracing technology and being open to new and improved processes. He does a great job providing updates and PBA communications to the bar executives. He is very involved with membership recruitment and retention programs and initiatives as he works with the PBA Membership Committee and supervises the staff responsible for all membership activity. He is the conduit between PBA and PABE for this as well."
O'Rourke also was recognized for his role in the planning of CCBL programming, conference logistics and the evaluation process. As a PABE officer, he has been instrumental in encouraging bar executives to participate in the CCBL. He is a state bar director on the board of the National Association of Bar Executives (NABE) and a past chair of the NABE Bylaws and Sponsorship committees.
A graduate of Lycoming College, he resides in Palmyra.
The CCBL, whose membership includes leaders from county bar associations throughout the state and from the PBA, organizes a yearly educational conference focusing on the exchange of innovative bar association projects and ideas.
Founded in 1895, the PBA strives to promote justice, professional excellence and respect for the law; improve public understanding of the legal system; facilitate access to legal services; and serve the 27,000 lawyers who are members of the association.