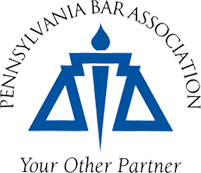 The Conference of County Bar Leaders has established and presents the Gilbert Nurick Award, which is named for the late Harrisburg lawyer who served as Pennsylvania Bar Association President, to any member of the Pennsylvania Bar Association whose dedication and service to leadership and promotion of the organized bar and its activities has resulted in the enhancement of leadership for incoming bar association officers. The award need not be given on an annual basis, but when the dedication and achievement of an individual should be recognized. The award is not given solely because the recipient has held and discharged with fidelity high office or a variety of offices in the Association.
A candidate may be nominated for more than one award. Please review the award descriptions to determine if your candidate meets the criteria.
Past recipients of the award are:
The 2017 recipient of the Gilbert Nurick Award was Attorney David S. Posner.
Kathleen D. Wilkinson (Philadelphia County)
Elizabeth A. Erickson Kameen (Pike County)
Francis X. O'Connor (Susquehanna County)
Alfred Jones Jr. (Centre County)
Hon. Thomas M. Golden (Berks County)
Alexander (Lex) DiSanti (Delaware County)
Marvin D. Rudnitsky (Snyder County)
John W. Flannery (Lawrence County)
H. Reginald Belden (Westmoreland County)
Richard E. Flannery (Lawrence County)
Chester C. Corse, Jr. (Schuylkill County)
Robert D. Beck (Washington County)
Martha Baum Walker (Franklin County)
M. Fletcher Gornall (Erie County)
Robert L. Ceisler (Washington County)
Frances H. Del Duca (Cumberland County)
Herbert J. Johnson, Jr. (Erie County)
William C. Cassebaum (Northampton County)
Charles C. Keller (Washington County)
David B. Fawcett, Jr. (Allegheny County)
James W. Stoudt (Berks County)
Gilbert Nurick (Dauphin County)

Click here for the award nomination form.
Please complete the entry form and return it to the PBA by to January 18, 2019.