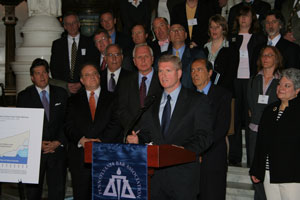 PBA President Andrew F. Susko addresses attendees at the 11th Annual PBA on the Hill program at the state Capitol on May 5, 2008
Pennsylvania Lawyers Taking Their Case to Capitol Hill - 11th Annual PBA on the Hill Program
Our annual PBA on the Hill program has taken on new energy and purpose in 2008.
Themed "Pennsylvania Lawyers Taking Their Case to Capitol Hill," this year's two-day program, held May 5-6, provided opportunities for Pennsylvania lawyers to engage directly with state legislators on issues of importance to the profession:

Access to justice/civil legal services funding
Protecting the practice of the law/UPL
Preserving county legal journals
Other issues of interest to county bar associations and individual lawyers
Giving lawyers the opportunity to meet face-to-face with their state legislators about issues impacting the practice of law and the public's access to justice, the program included a dedicated block of time for these meetings. And attendees had a second opportunity to meet with legislators during the PBA's Capitol Rotunda reception ending day one of the program. PBA Pro Bono Award winners were showcased during this special event.
In addition, the program offered important updates on the recently enacted right-to-know/open records law and the "Civil Gideon" movement in Pennsylvania. Plus, there was a special session titled "Law School for Legislators and Staff" on day two of the program that focused on legal services supporting the needs of constituents. The entire program provided 6.5 continuing legal education (CLE) credits.
PBA on the Hill is a joint effort of the PBA Legislative Department, the PBA Young Lawyers Division and the PBA Legal Services to the Public Committee. This year the program also served as the annual PBA Pro Bono Conference.
Review the program brochure with full schedule and program details. Get additional information by contacting Lauren Brinjac of the PBA Legislative Department by e-mail and at 1-800-932-0311, Ext. 2207.