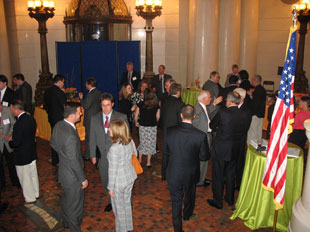 Participants gather at the legislative reception in the Capitol Rotunda following the Day on the Hill CLE program.
Day on the Hill 2007
Throughout the year, the PBA Legislative Department works with various PBA committees and sections to sponsor events involving legislative issues. One of the cornerstone projects is Day on the Hill. Sponsored in conjunction with the PBA Young Lawyers Division, the annual Day on the Hill program is designed to provide a forum for discussion between lawyers and members of the Pennsylvania Legislature.
This year's Day on the Hill program was held on Tuesday, April 24, at the State Capitol Complex in Harrisburg. A panel of leading legislators, legislative staff, and lobbyists gave attendees insight into the internal structure of the state Legislature as well as tips on how lawyers as constituents can communicate effectively with their legislators.
The CLE program was followed by an evening reception in the Capitol Rotunda which was well-attended by both PBA and Pennsylvania general assembly members.
If you have any questions regarding the PBA's Day on the Hill program, please contact Legislative Coordinator Lauren Brinjac at 1-800-932-0311, Ext. 2207, or by e-mail at lauren.brinjac@pabar.org.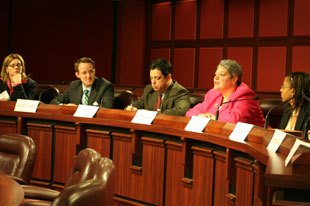 Day on the Hill panelists (from left) Mary Peters, director of education, Pennsylvania Catholic Conference; Dan Hayward, senior associate, Novak Strategic Advisors; Sen. Jay Costa (D-Allegheny); Rep. Kathy Manderino (D-Philadelphia); and Neeka Jones, counsel and director of legislative development for Sen. Vincent Hughes.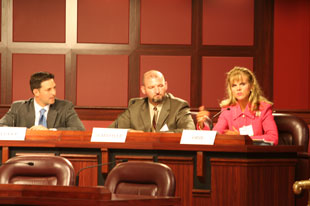 Day on the Hill panelists (from left) Rep. Mike Gerber (D-Montgomery); Mike Schwoyer, Special Counsel to Speaker of the House Dennis O'Brien; and Sen. Jane Clare Orie (R-Allegheny).