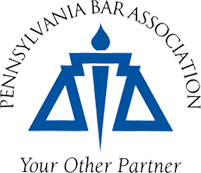 Law-Related Education Efforts of the local County Bar Associations in Pennsylvania
First Judicial District of Pennsylvania: Young Citizens Participate in mock trials of "Goldilocks," "Three Little Pigs" and "Jack and the Bean Stalk" for Law Day.
Text of April 30 media advisory.
WHAT: In celebration of Law Day in Pennsylvania, students from six regional schools (five city and one suburban) in pre-K through third grade will visit the Philadelphia Courts to participate as jurors in the mock trials of the "Three Little Pigs," "Goldilocks and the 3 Bears," and "Jack and the Bean Stalk." Students will receive subpoenas at their schools prior to the event, hear the trial as presented by the Philadelphia Bar Association's Young Lawyers Division with a presiding Philadelphia judge and deliver their verdict (and a sentence if the verdict is "guilty"!). This introduction to the court system, complete with court reporters and sheriffs, is a fun educational experience for our youngest citizens who will one day be called to serve as real jurors.
WHO:
Administrative Judge D. Webster Keogh, Court of Common Pleas - Trial Division
Judge Annette Rizzo
Judge Marlene Lachman
Judge Sandra Mazer Moss
Judge Matthew D. Carrafiello
Judge Sheila Woods-Skipper
Philadelphia Bar Association Chancellor Sayde J. Ladov
Students from McCall Elementary School, Trinity Preschool, Independence
Charter School, Penn Charter School, Greenfield Elementary School and Episcopal Academy
WHEN & WHERE: Friday, May 1; 653 City Hall, Philadelphia
9:30 AM: All students report for jury duty to courtroom 653 for a welcome by Administrative Judge D. Webster Keogh and others for assignment of trial.
10:15-11:30 AM: Trials held in courtrooms 675, 653, 625, 682, 275 and 285.
Contact: Jeff Jubelirer, 215-735-6760