Using Mock Trials as a Teaching Tool
Mock trials help students become familiar with the role of the courts in solving disputes. They are introduced to court procedures and they develop an understanding of the various roles and people involved in the judicial system. Mock trials also provide a fun and engaging method for students to practice critical thinking and communication skills.
Mock trials also provide an excellent opportunity to invite legal resource people into your classroom to assist with the lesson and mock trial. Please contact your local county bar association or the Pennsylvania Bar Association for more information.
A recent example of how local judges, lawyers, the PBA and other local law enforcement personnel worked with elementary students at Swarthmore Rutledge School in Delaware County to enact a mock trial of Goldilocks.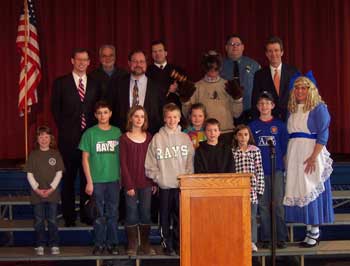 A group of parents, local leaders and the Pennsylvania Bar Association (PBA) presented the "Trial of Goldilocks" at Swarthmore Rutledge School on Friday, March 13, 2009. This mock trial program enhanced students understanding of the judicial system by presenting the elements of a criminal trial, with students serving as jurors. Pictured here are (top row left to right) David Caputo (prosecutor), SRS Principal Gary Davis, David Trevaskis (bailiff and PBA representative), Federal Magistrate Judge Phil Restrepo (judge), Mayor Eck Gerner (Papa Bear), Officer Ed Kline (officer/forest ranger), John Savoth (defense attorney), (bottom row) 8 students, and Lori Foglio (Goldilocks).
Mini Mock Trial Manual for Teachers from the Minnesota Center for Community Legal Education. This is a 66-page manual to help teachers use mock trials in grades 5-12. Mock trials can be done over the course of two class periods.
Mock Trial Activities for Grades K-2 from the New Jersey State Bar Foundation
Mock Trial Exercises for Grades 3-6 from the New Jersey State Bar Foundation
Mock Trial Exercises for Grades 7-8 from the New Jersey State Bar Foundation
The Pied Piper vs. The City of Hamelin