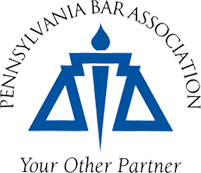 MINORITY BAR COMMITTEE PRESENTS DISTINGUISHED JURISTS AWARDS
STATE BAR ASSOCIATION MINORITY BAR COMMITTEE PRESENTS DISTINGUISHED JURISTS AWARDS
The Pennsylvania Bar Association Minority Bar Committee presented its two Distinguished Jurists awards to Montgomery Court of Common Pleas Judge Horace Davenport and Delaware County Court of Common Pleas Judge Robert A. Wright on March 28 during its 15th annual conference in Philadelphia. The Distinguished Jurist Award is presented to a judge retiring from senior status, who through long service on the bench, has established an exemplary record of using the law to undermine injustice, and ensure the equal rights of all before the law. In addition, the award recognizes judicial temperament and contribution to the legal profession in general, and to minorities in particular.
Senior Judge Horace A. Davenport has been with the Montgomery County Court of Common Pleas since 1976. Prior to his judgeship, Judge Davenport worked for the law firm of Gerber, Davenport & Wilenzik in Norristown and also as a sole practitioner. He is a member of the Pennsylvania and American Bar associations, the National Advisory Veterinary Medicine Committee of the FDA, the American Trial Lawyers Association and the Estates Planning Council of Montgomery County. He was also a parliamentarian with the Central Montgomery County Branch of the American Red Cross. Judge Davenport received a bachelor of arts degree from Howard University, a masterís degree from the Wharton School at the University of Pennsylvania and a LL.B. from the University of Pennsylvania. He received an honorary degree of doctor of laws from Johnson C. Smith University.
Senior Judge Robert A. Wright has served on the Delaware County Common Pleas Court since 1970. Prior to his ascending to the bench, Judge Wright served as an assistant district attorney for six years. He has received many awards and recognitions including the Delaware County Chamber of Commerce Lifetime Achievement Award, the Honorable Paul R. Sand Presidentís Award from the Delaware County Bar Association and was recognized by the Children Youth Services of Delaware County for his leadership role as the first African American to serve in the Delaware County judiciary. Judge Wright is a graduate of Lincoln University and Temple Law School.