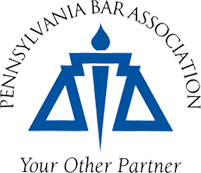 Law Day 2009, It's Not Business as Usual: Using the Law as a Resource for Change
On Thursday May 21, the University of Pennsylvania hosted the annual PBA Minority Bar Committee's Law Day Event, which was funded by the Pennsylvania Bar Foundation. Nearly 200 school students from the Philadelphia region attended the event. Minority Law Day exposes students to the practice of law and provides them an opportunity to interact with attorneys in a relaxed setting. This year's theme was It's Not Business as Usual: Using the Law as a Resource for Change. Activities included a mock law lecture focusing on this year's theme, a small panel discussion, small group sessions encouraging students to debate two mock problems, an essay contest and a multimedia presentation.
Awards were presented to the top advocates for the group sessions and to three students whose essays were selected from several entries submitted. The students in the group sessions were full of energy and did a great job advocating for their respective positions. They showed a natural ability to analyze their problems and communicate sound reasons for their position. In addition, the students did not make it easy for the essay contest judges. There were many good essays that showed inspiring and creative expressions on using the law to bring about social change. Overall the students were motivated, enjoyed themselves and seemed to be inspired at the end of the event. In fact one student approached a volunteer attorney and asked, "What do I need to do to write a first-place essay for next year's Law Day?" We can only be comforted by such drive and ambition and encouraged that these are our future leaders.
The Minority Law Day Committee, chaired by Sapna Anderson, did an outstanding job planning and carrying out the event. Many thanks go out to Louann Bell for her tireless effort and for keeping things running smoothly. The volunteer attorneys and law students were superb and helped to make this year's Minority Law Day a great success.
Click here for 2009 Minority Law Day photos.