The 14th Annual PBA Minority Attorney Conference was held April 4-5 at the Pittsburgh Marriott City Center. Themed "Diversity and Civil Liberties in the New Millennium," the conference offered up to seven substantive CLE credits.
"This year's Minority Attorney Conference provided thought-provoking and compelling discussions on many issues that concern us not only on a professional level as attorneys, but also on a personal level as individuals, parents and citizens of this commonwealth and nation," said Minority Bar Committee Chair Pamela F. Cross. "In light of the events of Sept. 11, the conference theme, 'Diversity and Civil Liberties in the New Millennium,' was both timely and apropos. The current issues in education, affirmative action, and civil liberties; and the developing law of the Internet set the stage for lively and dynamic course presentations from our faculty of distinguished academics and practitioners."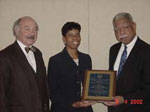 During the conference, the PBA Minority Bar Committee Lifetime Achievement Award was presented to Superior Court Judge Justin M. Johnson. He was nominated for his commitment to the progress of minorities through outreach to minority students and professionals.
His active military and reserve duty, including two active duty flights into Vietnam, were with the U.S. Air Force as an aircraft commander. After receiving his A.B. and J.D. degrees from the University of Chicago, Judge Johnson attended the graduate program for judges at the University of Virginia School of Law.
Judge Johnson was appointed to the Superior Court of Pennsylvania in 1980 and elected to a 10-year term in 1985. He was retained in office in 1995 and appointed to a concurrent two-year term on the then newly-established Court of Judicial Discipline in 1993.
Prior to ascending to the bench, Judge Johnson was a partner in the firm of Berkman, Ruslander, Pohl, Lieber & Engel (now Klett, Rooney, Lieber & Schorling). Before joining that firm, he was a partner with his father and brother in the firm of Johnson, Johnson & Johnson. He also served as solicitor and assistant secretary to the School District of Pittsburgh. In addition, Judge Johnson was an adjunct professor at the Duquesne University School of Law.
Judge Johnson completed 20 years of service on the Pennsylvania Board of Law Examiners, the last six as its chairperson. He served on the National Conference of Bar Examiners, and from 1977 until his appointment to the bench, he was a member of the Pennsylvania Crime Commission. Judge Johnson is a past chair of the Disciplinary Board of the Supreme Court of Pennsylvania Hearing Committee 4.11 and past president and director of Neighborhood Legal Services Association in Pittsburgh. He is an active member of the American, National and Pennsylvania bar associations and is a fellow of the American Bar Foundation. He is a charter fellow of the Allegheny Bar Foundation. Judge Johnson currently serves on the boards of the Pennsylvania Bar Institute, Princeton Theological Seminary and the Mt. Ararat Community Activity Center. He also is a life trustee of Carnegie Mellon University.
The keynote speaker for the conference was Commonwealth Court Judge Doris A. Smith-Ribner, who currently is serving her second 10-year term in Philadelphia. In 1984, Gov. Dick Thornburgh appointed Judge Smith-Ribner to the Court of Common Pleas of Allegheny County, where she served an interim term as a judge in Juvenile Court until January 1986. She is secretary of the Commonwealth Court and is a member of the Pennsylvania Supreme Court Judicial Auditing Agency.
Prior to holding judicial office, Judge Smith-Ribner was engaged in private practice in Pittsburgh for more than 12 years and served in several government offices, including as commissioner on the Pennsylvania Human Relations Commission. She also served as a member of the Pennsylvania Supreme Court Disciplinary Board Hearing Committee.
Judge Smith-Ribner has served on various civic, community and charitable organizations and has received numerous commendations and awards for her dedication to her profession and community. She received the PBA Minority Bar Committee Chairman's Judicial Independence Award in 1999.
Judge Smith-Ribner is a graduate of the University of Pittsburgh and University of Pittsburgh Law School.
Fourteenth Annual
PBA Minority Attorney Conference
Diversity & Civil Liberties in the New Millennium
Pittsburgh Marriott City Center
Pittsburgh, PA
April 4-5, 2002
AGENDA
(7 Substantive CLE Credits)
April 4, 2002
11:00 a.m.
Registration
12:00 p.m. - 1:00 p.m.
Young Lawyers Roundtable (no CLE credits) Panelists: Rosa Copeland Miller, Esq., Meyer Darragh Buckler Bebenek & Eck, Pittsburgh
Alan J. Marks, Esq., Chubb Insurance, Pittsburgh
1:00 p.m. - 1:15 p.m.
Welcoming Remarks
H. Reginald Belden, Jr., Esq., PBA President, Pittsburgh
Amy J. Greer, Esq., President, Allegheny County Bar Association, Pittsburgh
1:15 p.m. - 3:15 p.m.
Education Issues (2 substantive CLE credits)
Moderator: Jettie D. Newkirk, Esq., Law Office of Jettie D. Newkirk, Philadelphia
Speakers: Royce L. Morris, Esq., Goldberg, Katzman & Shipman PC, Harrisburg
Hon. William F. Robinson, Esq., PA House of Representatives, Harrisburg
Prof. Phoebe A. Haddon, Temple University School of Law, Philadelphia
Secretary Charles B. Zogby, Pennsylvania Department of Education, Harrisburg Trent Hargrove, Esq., Office of Attorney General, Harrisburg Hon. Anthony H. Williams, Senate of Pennsylvania, Harrisburg
3:30 p.m. - 5:30 p.m.
Affirmative Action (2 substantive CLE credits)
Moderator: Emmanual O. Iheukwumere, Esq., Eaton & McClellan, Philadelphia
Speakers: Prof. Frank Wu, Howard University Law School, Washington, D.C.
Prof. Frank M. McClellan, Temple University School of Law, , Philadelphia
Kaaba Brunson, Pennsylvania Human Relations Commission, Harrisburg

5:30 p.m. - 7:30 p.m.
Networking Reception
Jazz Band: The Brooks Brothers
April 5, 2002
8:00 a.m.
Registration & Continental Breakfast
8:45 a.m. - 9:00 a.m.
Opening Remarks
Pamela F. Cross, Esq., Chair, PBA Minority Bar Committee, Harrisburg
Hon. Cynthia A. Baldwin, Allegheny County Court of Common Pleas, Pittsburgh
9:00 a.m. - 10:00 a.m.
Law of the Internet (1 substantive CLE credit)
Moderator: Kurt Saunders, Esq., California State University, Los Angeles, California
Speakers: Darrell Williams, Esq., Webb Ziesenheim Orkin & Henson PC, Pittsburgh
Chris Hoofnagle, Esq., Electronic Privacy Information Center, Washington, D.C.
10:15 a.m. - 12:15 p.m.
Civil Liberties (2 substantive CLE credits)
Moderator: Hon. Livingstone Johnson, Allegheny County Court of Common Pleas, Pittsburgh
Speakers: Wendell G. Freeland, Esq., Freeland & Kronz, Pittsburgh
Enrique Rosario, Esq., Rosario International Inc., Philadelphia
Jon Pushinsky, Esq., Law Offices of Jon Pushinsky, Pittsburgh
Mary Beth Buchanan, Esq., U.S. Attorney's Office, Pittsburgh
12:15 p.m. - 2:45 p.m.
Luncheon
Remarks by: Pamela F. Cross, Esq., Chair, PBA Minority Bar Committee, Harrisburg
Keynote Speaker: Hon. Doris A. Smith-Ribner, Commonwealth Court of PA, Pittsburgh
Lifetime Achievement Award Presentation
Hon. Justin M. Johnson, Pennsylvania Superior Court, Pittsburgh
Presenter: Hon. Livingstone Johnson, Allegheny County Court of Common Pleas, Pittsburgh