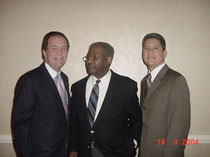 16th Annual PBA Minority Attorney Conference
The 16th Annual PBA Minority Attorney Conference will take place March 18-19 at the Crowne Plaza Harrisburg. With the theme, "Acting Affirmatively: Roles for the Minority Attorney in the Public and Private Sectors," the conference will offer attendees six substantive CLE credits and one ethics CLE credit.
The PBA Minority Bar Committee Lifetime Achievement Award will be presented during the conference to Judge Clarence C. Morrison, retired from the Dauphin County Court of Common Pleas.
"Judge Morrison's greatest contribution to the legal profession, in my opinion, is the profound impact he made on the careers and lives of countless young people, young lawyers and law students," wrote his nominator, Norris E. Benns Jr. "[He] served as a mentor and role model to law clerks, interns and many youth organizations.
"Judge Morrison instilled in young people the belief that careers were available to them in the legal profession," Benns continued. "He opened his courtroom on countless occasions, permitting them to observe the legal process from a perspective other than as a participant in the juvenile justice system. Moreover, he always took the time to say a few encouraging words to the young people visiting his courtroom."
A graduate of Howard University and the Howard University Law School, Judge Morrison served in the U.S. Navy before settling in the Harrisburg area to develop his legal practice. He was the first African American elected to the Dauphin County Court of Common Pleas in 1980; he then became the county's first African American president judge in 1993, serving in that capacity until his retirement in 2000. He also has been a member of the Pennsylvania and Dauphin County bar associations.