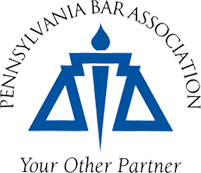 Constitutional Review Commission
In 2010, the Pennsylvania Bar Association convened a Constitutional Review Commission (CRC). Over 22 months the CRC expended, in the aggregate, thousands of hours in research, interviews, study and drafting, all in furtherance of developing recommendations for improving the commonwealth's governance and government. The CRC submitted its report to the PBA Board of Governors and it was then disseminated to all members of the PBA House of Delegates and to the leadership of all PBA committees and sections. The report is available in the linked material below. It is also available on the CRC website, www.pabarcrc.org, along with additional information about the group and its work. All PBA members, sections and committees are encouraged to read the report and take appropriate follow-up action.
Click here to view the Executive Summary of the Constitutional Review Commission Report
Click here to view the Constitutional Review Commission Report.
Click here to go directly to the Constitutional Review Commission website.