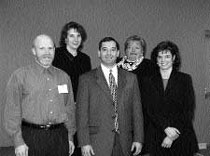 (Left to right) Children's Rights Committee Co-Chair Scott Hollander, Vice Chair Joyce A. Hatfield-Wise, Child Advocate of the Year Jeffrey Watson, Judge Katherine B. Emery, Washington County Court of Common Pleas; and Children's Rights Committee Co-Chair Lucy Johnston-Walsh.
The 2002 Current Issues for Child Advocates Program, co-sponsored by the PBA Children's Rights Committee and the Pennsylvania Bar Institute, was held on April 5 at the PBI Conference Center, Mechanicsburg. This year's conference offered six CLE credits of practical guidance and legislative updates in a host of areas that affect most Pennsylvania advocates.
The topics included juvenile delinquency, juvenile dependency, judicial perspectives, immigration laws that affect children, medical evidence of abuse and a mock dependency hearing.
Washington County Juvenile Master Jeffrey A. Watson accepted the Child Advocate of the Year award. Watson is in private practice with Smider & Watson, P.C., and serves as solicitor to various municipalities. For several years, he was court-appointed counsel and guardian ad litem for children. Nomination materials note that his negotiation skills and practical ability to understand the intricacies of each family situation were evident from the beginning.
Eight years ago, his expertise was acknowledged with his appointment to juvenile master for Washington County. He has since been appointed by three consecutive administrative judges to hear both dependency and delinquency matters. Watson was awarded the Citizen of the Year Award in 1998.
Judge Debbie O'Dell Seneca, past administrative judge, stated in her letter supporting his nomination, "Mr. Watson has a keen grasp of the Juvenile Act and exhibits great acumen in juvenile cases. He understands the needs of children who are at risk and/or abused and does everything in his power to protect them. Further, he is firm with delinquent children and attempts to facilitate their rehabilitation if necessary."