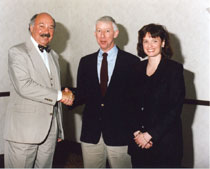 The 2001 Current Issues for Child Advocates Program, co-sponsored by the PBA Children's Rights Committee and the Pennsylvania Bar Institute, was held on April 20 at the PBI Conference Center, Mechanicsburg. This year's conference offered six CLE credits of practical guidance and legislative updates in a host of areas that affect most Pennsylvania advocates.
The conference attendees were able earn five substantive and one ethics credit. The topics included juvenile delinquency, juvenile dependency, judicial perspectives, the Adoption & Safe Families Act, crossing the funding streams, and communicating with youth. Click here for photos from the seminar.
While the Child Advocate of the Year was announced during the conference luncheon, the presentation was made to the award recipient, Robert G. Schwartz, during the June 8 PBA Committee/Section Day luncheon.
In 1975, Schwartz co-founded the Juvenile Law Center in Philadelphia and has been its executive director since 1982. He has represented dependent and delinquent children in Pennsylvania juvenile and appellate courts; brought class-action litigation over institutional conditions and probation functions; testified in Congress before House and Senate committees; and spoken in more than 25 states on matters related to children and the law.
From 1992-98, he was chair of the Juvenile Justice Committee of the ABA's Criminal Justice Section. In 1993, he visited South Africa to help develop a legal system for children. That same year he also co-authored the ABA's "American Children at Risk" report, then helped author a follow-up report in 1995 titled "A Call for Justice," which discussed children's access to quality lawyers. Schwartz currently helps manage the National Juvenile Defender Center, an organization established by the ABA Juvenile Justice Center, Youth Law Center and Juvenile Law Center as a result of "A Call for Justice."
A member of the MacArthur Foundation Research Network on Adolescent Development and Juvenile Justice, he co-edited Youth on Trial: A Developmental Perspective on Juvenile Justice. From 1996-99 Schwartz was a gubernatorial appointee to the Pennsylvania Commission on Crime and Delinquency (PCCD); since 1991 he has been a gubernatorial appointee to PCCD's Juvenile Advisory Committee, which distributes federal funds in Pennsylvania and advises the governor on juvenile justice policy.
Schwartz has received numerous awards, including the Andrew Hamilton Award (presented by the Philadelphia Bar Association "for exemplary service in the public interest") and the Reginald Herbert Smith Award (presented by the National Legal Aid and Defender Association).