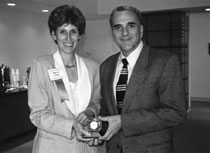 The Fourth Annual Current Issues for Child Advocates Program was held on April 25 at the PBI Conference Center in Mechanicsburg. The program provided both practical guidance and legislative updates, plus an opportunity to network with colleagues from across Pennsylvania.
The Conference was co-sponsored by the PBA Children's Rights Committee and the PBI and offered six CLE credits, one ethics and five substantive. Some of the topics included were representing teenage clients, appeals in dependency cases, and hot topics in juvenile delinquency proceedings.
Allegheny County Judge Max Baer was honored with the Child Advocate of the Year Award during the Seminar luncheon sponsored by the PBA Children's Rights Committee. He is the first jurist to receive the award.
From December 1993 until April 1999, Judge Baer served as administrative judge of the Family Division of the Court of Common Pleas of Allegheny County. Among the many programs he initiated are the Statewide Adoption Network (SWAN), a one judge/one family policy in juvenile court; the CYF family mediation project to facilitate adoptions at the point of termination of parental rights; a Permanency Planning List to pinpoint delays in adoption cases; and the Hearing Officer Project to assist judges in the hearing of dependency cases. For these efforts, he has been honored with many awards, including the Adoption 2000 Excellence Award from President Clinton in a 1998 White House ceremony.
Prior to joining the court, Judge Baer served as deputy attorney general in the major litigation section of the Pennsylvania Department of Justice and was a partner in the law firm of Sherrad, German & Kelly, P.C. He received a B.A. from the University of Pittsburgh and a J.D. from Duquesne University School of Law in 1971.
His writing is included in The Judges Book, a publication of the National Conference of State Trial Judges. He also teaches family law and policy as a member of the Carnegie Mellon University faculty. Judge Baer serves on the education committee of the Pennsylvania Conference of State Trial Judges and is the liaison to the Pennsylvania New Judges School. He is former chair of the Domestic Relations Procedural Rules Committee of the Supreme Court and was as ex officio representative to the Juvenile Court Judges Commission.
In 1998, the PBA Children's Rights Committee established the Child Advocate of the Year Award to recognize the accomplishments of Pennsylvania lawyers who serve as advocates for children. Previous honorees include Frank P. Cervone of the Support Center for Child Advocates, Philadelphia, and Jefferson County lawyer Heidi Ulrich Dennison.