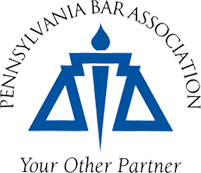 PENNSYLVANIA BAR ASSOCIATION JUDICIAL EVALUATION COMMISSION 2011 SUPREME COURT CANDIDATE RATINGS
Justice J. Michael Eakin
Rating: Recommended for Retention

The Candidate has served on the Supreme Court since January 2002. His opinions are thorough, thoughtful, cogent and concise. He has authored several opinions in poetic verse, which has drawn praise in some legal circles and criticism in others. He is an active participant at oral argument, frequently questioning counsel to assist him and the other members of the court in understanding the nuances of particular issues. The Candidate is known for his quick wit and friendly nature. Although demonstrating a collegial attitude to the lawyers who appear before him and to his peers on the Supreme Court, he has not been reluctant to author dissenting opinions when he felt it was necessary and important to do so. Regarded as fair, impartial, independent and unlikely to be swayed by public opinion or media criticism, the Candidate has earned the respect of lawyers and judges in the Commonwealth. The commission recommends the Candidate's retention.

Read the Candidate's questionnaire.