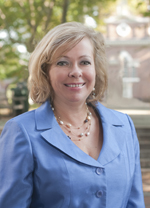 Kathleen D. Wilkinson, a partner in the Philadelphia firm of Wilson Elser Moskowitz Edelman & Dicker LLP, is the Zone One governor on the PBA Board of Governors, representing Philadelphia lawyers.
Wilkinson has served in the PBA House of Delegates for more than 10 years. She received the Gilbert Nurick Award from the PBA Conference of County Bar Leaders in 2014 for outstanding service to local bar associations. She was the recipient of the PBA Women in the Profession Committee's Anne X. Alpern Award in 2008 for her demonstrated leadership in the legal profession and community. She is a member of the PBA Alternative Dispute Resolution, Federal Practice, In-House Counsel, Judicial Administration, Minority Bar and Leadership Recruitment and Development committees. She has served in the leadership of the PBA Women in the Profession Committee and the PBA Civil Litigation Section. She was a zone one director for the PABAR-PAC and co-chair of the 2007 PBA Midyear Meeting.
Wilkinson served in 2013 as the 86th chancellor of the Philadelphia Bar Association, only the sixth woman to serve in that position in the association's history. She has served in a variety of leadership roles in the Philadelphia Bar Association since 1998 when she co-chaired the association's Women in the Profession Committee. She has been a member of the bar association's cabinet since 2005. She has co-chaired the Philadelphia Bar Association's State Civil Litigation Section, State Civil Rules and Procedure Committee, Women in the Profession Committee, and Raising the Bar Campaign. She co-chairs the Ruth Bader Ginsburg "Pursuit of Justice" legal writing competition.
Wilkinson is a member of the board of directors of the Pennsylvania Bar Institute. She also has served on the boards of directors of the Philadelphia Bar Foundation, the Philadelphia Volunteers for the Indigent Program (VIP) and the Philadelphia Defender Association.
Pennsylvania Super Lawyers named Wilkinson to its 2013 "Pennsylvania Top 50 Women" list and selected her for inclusion in Pennsylvania Super Lawyers in 2006 and 2007 and from 2009 to 2013. The Legal Intelligencer and Pennsylvania Law Weekly named her "Woman of the Year" in 2007-2008.
Wilkinson is a founding member of Villanova University's School of Law J. Willard O'Brien Inn of Court and was its first woman president in 2004.
She is a summa cum laude graduate of Kean University, which named her "Alumni of the Year" in 2010. She received her juris doctorate in 1981 from the Villanova University School of Law. In 2013, the Villanova Law Alumni Association named her the recipient of the Gerald Abraham Alumni Association Award for service to the law school.