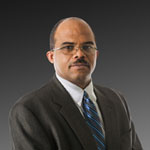 Wesley R. Payne IV, a partner in Philadelphia's White and Williams LLP and chair of its diversity committee, is an at-large minority governor on the PBA Board of Governors.
A member of the PBA House of Delegates, Payne is active in the PBA Minority Bar Committee and serves as co-chair of its Diversity Summit subcommittee. He also has served on the PBA Minority Attorney Law Day and Minority Attorney Conference subcommittees. Payne is the chair of the PBA Military and Veterans Affairs Committee and serves on the PBA Nominating and Planning committees. He also served on the PBA Judicial Administration and Legal Services to the Public committees and the Conference of County Bar Leaders.
Payne is the treasurer of the Philadelphia Bar Association and a member of the Barristers Association of Philadelphia. A former director of the Pennsylvania Defense Institute, he is the president of the Philadelphia Association of Defense Counsel.
Active in pro bono and civic activities, Payne serves as president of the Pennsylvania Legal Aid Network and co-president of the Philadelphia Diversity Law Group. He is a member of the boards of directors for the Homeless Advocacy Project and the Bethesda Project.
Law & Politics named Payne a Pennsylvania "Super Lawyer" in 2012 and 2013. The Philadelphia Tribune selected him as one of its "Top 60 African-American Attorneys in Philadelphia." He received the 2013 Multicultural Leadership Award from the Diversity Law Group, and The Legal Intelligencer recognized him in 2012 as an "Unsung Hero" for his pro bono work.
Payne is a cum laude graduate of Washington and Lee University. He received his juris doctorate from the University of Maryland School of Law. He served in the U.S. Army Judge Advocate General's Corps from 1988 until 1991.