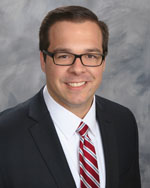 Justin A. Bayer of Worcester Township, Montgomery County, a partner in the Norristown law firm of Kane, Pugh, Knoell, Troy and Kramer LLP, is the chair-elect of the PBA YLD.
Bayer has served on the PBA YLD Council since 2010. He is a member of the PBA House of Delegates.
Bayer is a member of the board of directors of the Montgomery Bar Association (MBA) and serves as a member of the MBA Executive Board. He is chair of the MBA Medical-Legal Committee and past chair of the MBA Young Lawyers' Section.
Bayer has lectured for the PBI and for a variety of legal education programs for lawyers, law students and professionals. In 2007, 2008, and 2010-2014, both Philadelphia Magazine and Law and Politics selected him as a "Rising Star" attorney.
Bayer is a graduate of Lehigh University and Villanova University School of Law.